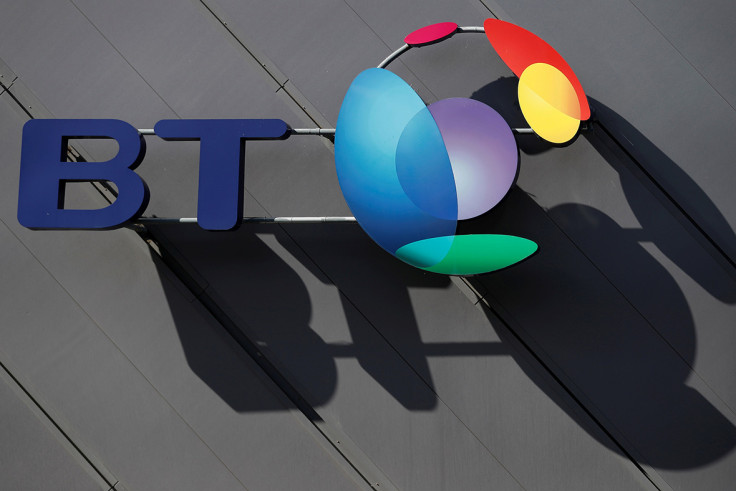 UPDATE: By 2:30pm it seems that BT is still having some problems. It has also been revealed that the issues were caused by a 20-minute power cut at the London Internet Exchange (Lynx) between 7:55am ad 8:17am.
UPDATE: As of 10am, BT says the broadband outage is due to "power issues at one of our internet peering parters' sites in London" and that engineers are working on a fix.
---
Original story:
Problems were reported by customers in London, Leeds, Liverpool, Manchester, Edinburgh and Northern Ireland, according to a map produced by the DownDetector website. BT tweeted at 9:15am to say some of its customers have reported problems. "Sorry, we're aware of a problem and working to fix ASAP," it added.
On its website, BT said: "A small number of customers...may experience a loss of telephone and/or broadband services. We hope to have service restored as quickly as possible and apologise for any inconvenience this may be causing." The company suggested that the outage may be the result of "damage caused by third parties or cable theft."
BT estimates that the problem will be "cleared" in London today, 20 July, but other places such as Dungiven in northern Ireland could be without internet for up to five days.
Produced by DownDestector, the map below shows where in the UK problems with BT are being reported. Symptoms of the outage include websites loading slowly, some not working at all, and others not displaying any images.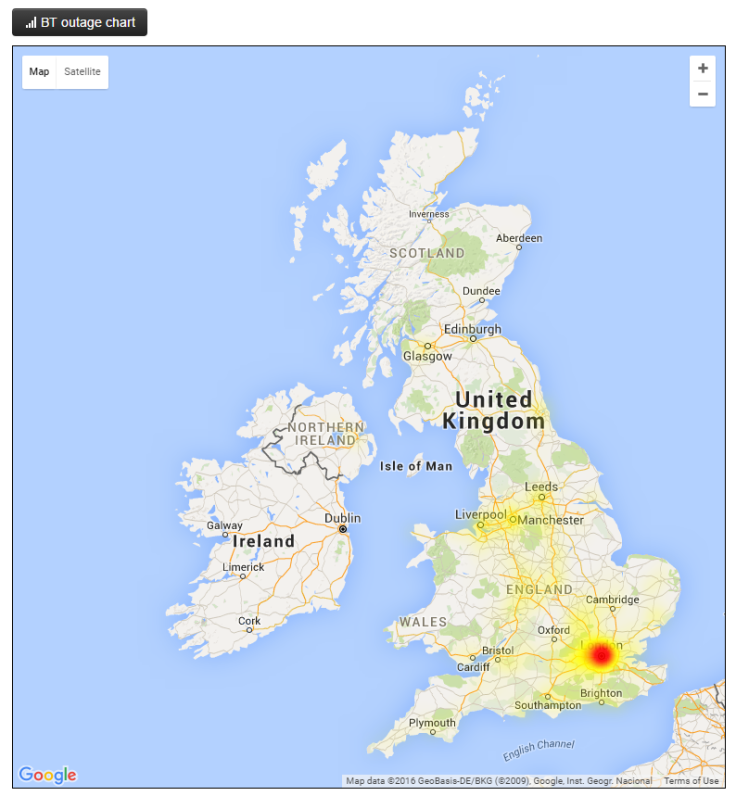 This graph is from Linx and shows a sudden drop in London web traffic at 6:50am on 20 July, around the time that BT's broadband service went offline.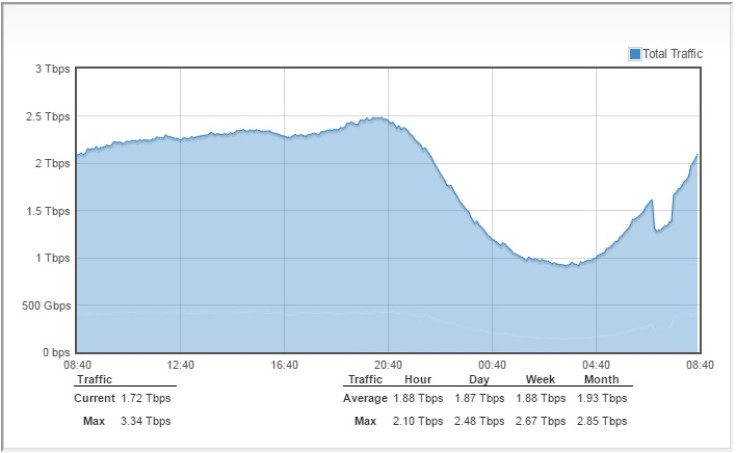 Here is a list of all areas in the UK affected by the outage, along with the phone number area codes and an estimated date for when BT will have the problems fixed:
Dungiven - 02877 (estimated clear date 25/07/2016
Lesmahagow - 01555 (estimated clear date 22/07/2016)
Tewkesbury - 01684 (estmated clear date 22/07/2016)
Hertford - 01469, 01992 (estmated clear date 22/07/2016)
Velindre - 01559 (estmated clear date 22/07/2016)
Yetminster - 01935 (estmated clear date 22/07/2016)
Roothing - 01279 (estmated clear date 22/07/2016)
Gwalchmai - 01407 (estmated clear date 22/07/2016)
Colaton Raleigh - 01395 (estmated clear date 22/07/2016)
Turnberry - 01655 (estmated clear date 22/07/2016)
Frittenden - 01580 (estmated clear date 22/07/2016)
Farnham - 01252 (estmated clear date 22/07/2016)
Crediton - 01363 (estimated clear date 22/07/2016)
Southrepps - 01263 (estimated clear date 21/07/2016)
Holme - 01485 (estimated clear date 21/07/2016)
Wing - 01296 (estimated clear date 21/07/2016)
Bwlch - 01874 (estimated clear date 21/07/2016)
Gunnislake - 01822 (estimated clear date 21/07/2016)
Portscatho - 01872 (estimated clear date 21/07/2016)
Carterton - 01993 (estimated clear date 21/07/2016)
Nantwich - 01270 (estimated clear date 21/07/2016)
Boncath - 01239 (estimated clear date 21/07/2016)
Black Torrington - 01409 (estimated clear date 21/07/2016)
Kinross - 01577 (estimated clear date 21/07/2016)
Canon Pyon - 01432 (estimated clear date 21/07/2016)
Abergavenny - 01873 (estimated clear date 21/07/2016)
London - 0203,0207,0208 (estimated clear date 20/07/2016)
Bampton - 01398, 01931 (estimated clear date 20/07/2016)
York - 01904 (estimated clear date 20/07/2016)
Caergwrle - 01978 (estimated clear date 20/07/2016)
West Wratting - 01223 (estimated clear date 20/07/2016)
Fritton- 01493 (estimated clear date 20/07/2016)
Goring- 01491 (estimated clear date 20/07/2016)
Little Gaddesden - 01442 (estimated clear date 20/07/2016)
Ickford - 01844 (estimated clear date 20/07/2016)
Dryslwyn - 01558 (estimated clear date 20/07/2016)
Brookeborough - 02889 (estimated clear date 20/07/2016)
Puddletown - 01305 (estimated clear date 20/07/2016)
Melton Constable - 01263 (estimated clear date 20/07/2016)
St Neots - 01480 (estimated clear date 19/07/2016)
Hoyland - 01226 (estimated clear date 19/07/2016)
Hove - 01273 (estimated clear date 19/07/2016)
Wing - 01296 (estimated clear date 19/07/2016)
Ffestiniog - 01766 (estimated clear date 19/07/2016)
Falfield - 01454 (estimated clear date 19/07/2016)
Barking - 0203, 0208 (estimated clear date 19/07/2016)
Wormelow - 01981 (estimated clear date 19/07/2016)
Vauxhall - 0203, 0207, 0208 (estimated clear date 19/07/2016)
Bursledon - 02380, 02381 (estimated clear date 19/07/2016)
Whitchurch - 01275 (estimated clear date 18/07/2016)
Port Dinorwic - 01248 (estimated clear date 18/07/2016)
East Kilbride - 01355 (estimated clear date 18/07/2016)
Bethesda - 01248 (estimated clear date 18/07/2016)
Moulton Chapel - 01406 (estimated clear date 18/07/2016)
Forest Green - 01306 (estimated clear date 18/07/2016)