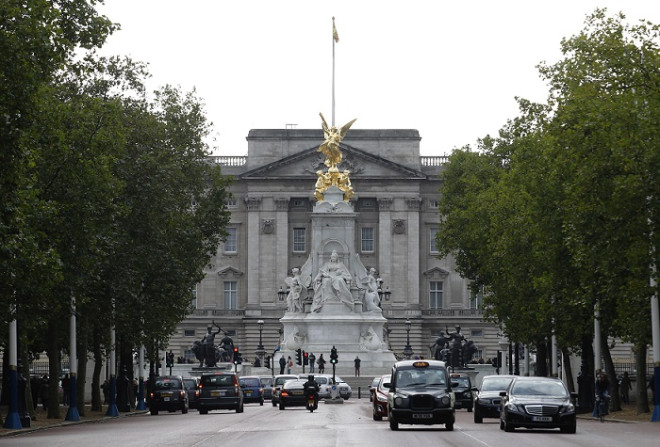 Air pollution near Buckingham palace is the highest in the UK and almost four times the EU legal limit, according to figures.
Grosvenor Place, which runs alongside the Queen's residence in London, has an average annual level of nitrogen dioxide (NO2) of 152 micrograms per cubic metre of air.
According to figures released by the Department for Environment, Food and Rural Affairs (Defra), the second most polluted area in the country is Oxford Street near Marble Arch, which had a reading of 150 micrograms.
The EU limit is 40 micrograms of NO2 per cubic metre of air.
The harmful NO2 emissions are mainly produced by diesel engines and have been linked to causing serious respiratory problems.
The figures, released by Defra following a Freedom of Information (FOI) request, also reveal areas around some of London's top tourist destinations, including The British Museum, Trafalgar Square and Covent Garden, are on the list of the most polluted areas.
Simon Birkett, founder and director of Clean Air in London, described the pollution levels in the capital as "nothing short of staggering".
He added: "The thought that hundreds of thousands or millions of tourists and Londoners in a year may be exposed to air pollution this high is deeply troubling."
The European Commission has launched legal proceedings against the UK for failing to bring down the "excessive" levels of NO2 in many cities. The UK faces a fine of up to £300m if the levels aren't reduced.
Despite this, a Defra spokesman said air quality had "improved significantly in recent decades" but admitted it is a challenge to control it around busy roads.
A spokesman for the Mayor of London said: "London's air quality is steadily improving, meeting legal limits for eight out of nine EU regulated pollutants.
"Since the mayor was elected, NOx [nitrogen oxide] emissions have reduced by 20% and the number of people living in areas exceeding NO2 limits has halved, but he fully recognises the need to take further action.
"This includes the introduction of the world's first Ultra-Low Emission Zone in central London from 2020, tougher requirements for taxis from 2018 and a £20m fund to tackle local problem areas."