Bum advert taken down by TFL after 'sexism' complaints from outraged Londoners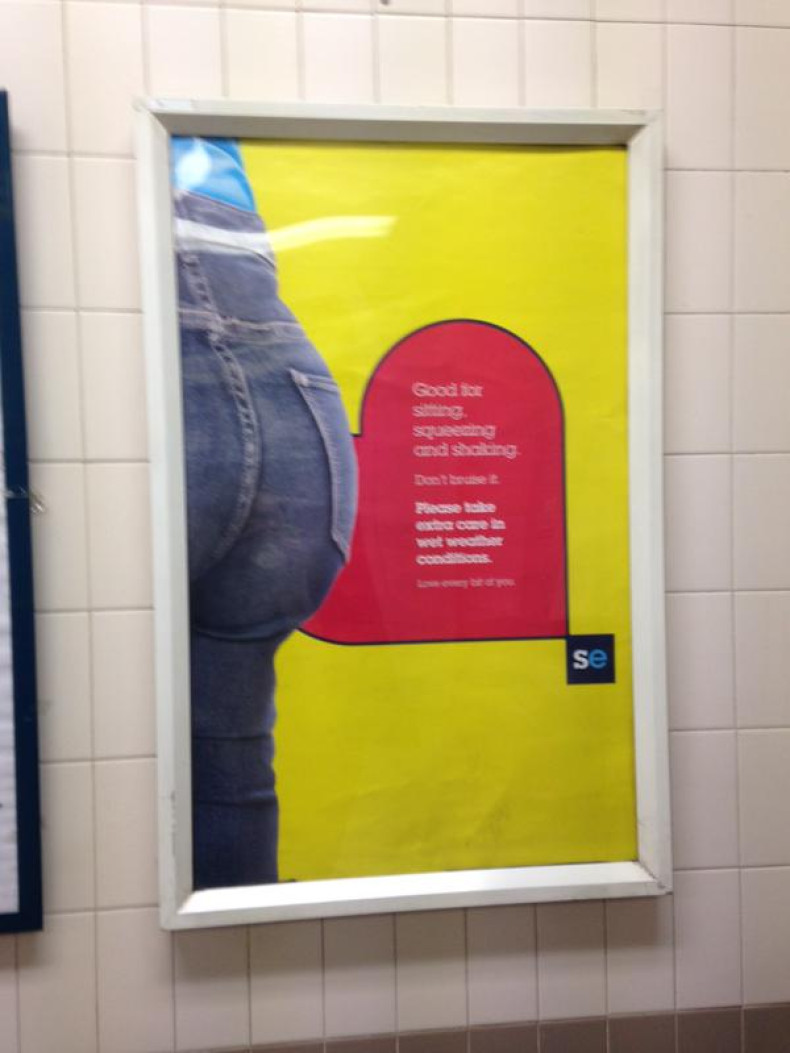 An advert featuring an image of a women's bottom has been pulled from the railway stations across London after causing outrage over sexism. It describes the woman's backside being good for "squeezing and shaking".
The advert shows a woman's jean-clad bum with the message: "Good for sitting, squeezing and shaking. Don't bruise it." It also says: "Please take extra care in wet weather conditions."
The campaign has been heavily criticised for trivialising sexual assaults and encouraging groping.
Labour MP and London mayoral candidate Sadiq Khan said the advert had "no place" on London's transport network. Meanwhile, Teresa Pearce, the Labour MP for Erith and Thamesmead, tweeted at Southeastern trains to complain. She said: "Nothing sexist about this at all is there @Se_Railway? Thats a really bad advert!"
really @TfL ? this advert is awful, a terrible way to get your point across. im surprised that any1 would agree 2 it pic.twitter.com/RBMJza8SiS

— catherine (@catherinbeattie) October 14, 2015
A Southeastern spokesman said: "Following a complaint last night from Teresa Pearce, MP for Erith and Thamesmead, this poster has been removed from the 70 stations it was placed in.
"The poster was used as it was intended to be a harmless but impactful way of drawing attention to safety issues at stations, particularly trips and falls during wet weather. This poster was put to an independent panel, which included both women and men, who approved it before it was used.
"We since recognise that to some it may cause offence and have taken appropriate action by removing it."
The number of sexual offences committed on London's public transport has increased by 20.8% year-on-year to 1,117 incidents recorded by British Transport Police (BTP) in 2013/14.
Attacks on women make up half of the reported incidents, while attacks on men only make up 4%. The remaining instances of sexual offences include indecent exposure and other forms of sexual crime.
In response to the rise in sexual offences, TfL has launching a sexual harassment campaign called "Report It To Stop It". The campaign highlights the fact that only 10% of passengers who experience unwanted sexual behaviour on public transport in London actually report it to authorities.