Burleseque dancer blocked from JetBlue flight for 'inappropriate' short shorts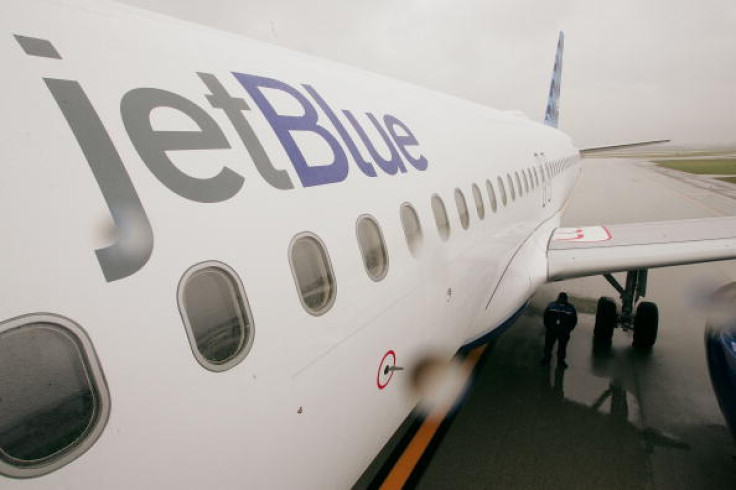 A woman was prevented from boarding her flight in Boston two weeks ago (18 May 2016) when staff told her that she was dressed 'inappropriately' and would need to cover up before they let her on. Maggie McMuffin, a burlesque dancer based in Seattle, was denied entry to her booked flight despite having just landed in Boston from New York City using the same airline.
A friend of McMuffin, Molly McIsaac, shared pictures of McMuffin's black-and-white-striped shorts on Facebook saying that she "did not deserve to be treated like this".
"No explanation was given except that the pilot said her clothes would prevent her [from] boarding the plane. The flight lead asked if she had anything else to wear, and told her if she didn't they could rebook the flight for her."
McIsaac said that McMuffin had to go to another terminal to purchase "women's sleep shorts in XL for 'proper coverage'." She says the company apologised but the pilot did not. McMuffin told the MailOnline that the airline refunded her the cost of these shorts and offered her $162 (£111) credit.
"I asked for a monetary refund since I don't want to fly with them again and was told I could let someone else use my credit," she told the site. "They let me on my original flight but only because I went and purchased new shorts."
A JetBlue spokesperson said that the crew "determined that the burlesque shorts may offend other families on the flight", stating: "While the customer was not denied boarding, the crew members politely asked if she could change. The customer agreed and continued on the flight without interruption."
"We support our crewmembers' discretion to make these difficult decisions, and we decided to reimburse the customer for the cost of the new shorts and offered a credit for future flight as a goodwill gesture."
© Copyright IBTimes 2023. All rights reserved.