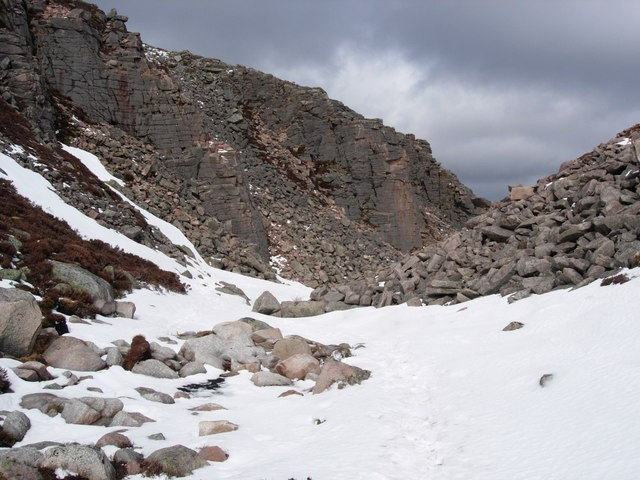 Three people have died after they were caught in an avalanche on the Cairngorm mountains.
Two men and a woman were airlifted to hospital but died from injuries sustained when tonnes of ice and rock roared down the mountainside at Chalamain Gap, police said.
Search and rescue teams scoured the area on Thursday to find three climbers still unaccounted for after the avalanche.
Two of those rescued died on the same day. The third survivor, a man, died overnight.
Police are trying to formally identify the victims and inform their next of kin.
This year, eight people have been killed on mountains in Scotland - four on the Cairngorms and four on Glencoe.
Graham Connell, 31, was found dead on Tuesday on Jacob's Ladder. He was one of six people who got lost on the Cairngorms and were found by rescue teams "in the middle of nowhere".
Trying to swim out futile
Four climbers were killed in an avalanche in January. Rachel Majumdar, 29, Una Finnegan, 25, Tom Chesters, 28, and Christopher Bell, 24, all died after falling around 1,000ft down Glencoe mountain and being buried in two metres of snow.
One man and one woman survived. Andy Nelson, from the Glencoe Mountain Rescue Team said the avalanche unfolded in less than a second and that the hikers would have been travelling at such a fast speed it would have been "impossible to stop".
He said: "It was a typical Scottish winter day, with strong winds, which isn't unusual, and light snow falling.
"The people were on a ridge walk, not climbing per se but walking, and then they chose to descend on the area that avalanched. It was a reasonable route to take but the snow beneath them was very unstable.
"Being in an avalanche is literally like standing on a carpet and having it pulled out from underneath you. Any thoughts of trying to swim out from it is futile."