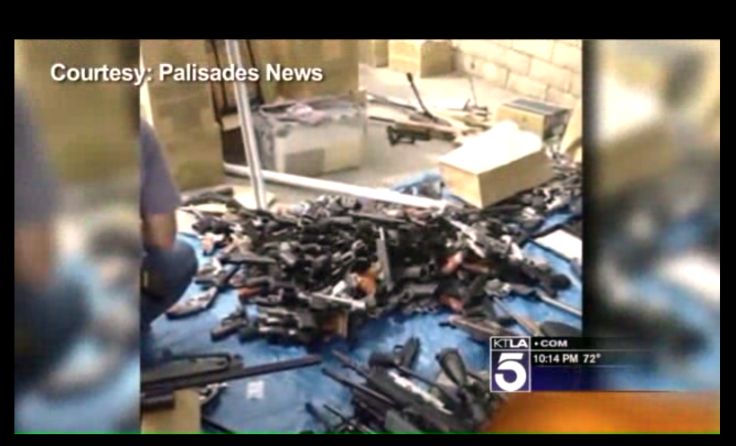 The body of a dead California man decomposing in his car has mystified authorities, not because they cannot identify him, but because of the stockpiles of weapons and ammunitions police discovered in his home.
The man, identified as Jeffrey Alan Lash by his fiancée Catherine Nebron, was left decomposing in his car in the lavish neighbourhood of Pacific Palisades for two weeks before being discovered by authorities. In his home, investigators found over 1,200 guns, scopes, 6.5 tons of ammunition, bows and arrows, knives, machetes and $230,000 in cash, the Associated Press reported.
Police also found eight of Lash's 14 vehicles around Los Angeles, including an SUV designed to drive underwater, according to the AP.
Harland Braun, Nebron's attorney, said the couple had been together for 17 years. Nebron believed her fiancée when he told her that he was an undercover operative for unnamed government agencies, Braun told reporters on 22 July.
"The story itself itself sounds totally crazy, but then how do you explain all this?" Braun said. "There's no evidence he was a drug dealer or he stole these weapons, or had any criminal source of income, no stolen property, all the stuff you'd look for."
Los Angeles Police Department Deputy Chief of Detectives Kirk Albanese confirmed that there is no evidence that Lash was doing anything illegal with the weapons. Investigators are still reviewing the evidence recovered, but those already reviewed appeared to be registered to the man.
According to Braun, Nebron and Lash were with two friends in a car at a grocery store on 4 July when Lash began to feel hot and have trouble breathing. "He wouldn't go to a hospital and didn't want any 911 call," the attorney said. After Lash died, Nebron placed him in the car down the road from where they lived.
Nebron told authorities that Lash had told her that government agencies would take care of his body and the items in their home. Following his death, Nebron and her friends took a trip to Oregon, reportedly distraught by Lash's death.
However, when they returned, Lash's body remained in the car. Nebron then contacted Braun, who helped her call the police.
While officials do not believe any foul play was involved, they will not given a cause of death as they conduct the investigation, the AP reported. Braun told the Los Angeles Times that Lash had been suffering from cancer.
The LA Times reported that several of Lash's neighbours referred to him as "Bob" and described him as a gun enthusiast who believed he had covertly worked for either the FBI or the CIA.
"He'll say crazy things to people like he does night missions swimming to Catalina," one neighbour told the LA Times. "He would come...and tell us he would show us self-defence moves."
The AP reported authorities are working with the name Jeffrey Alan Lash, and not Bob Smith as he presented himself to neighbours, to inform next of kin of his death.