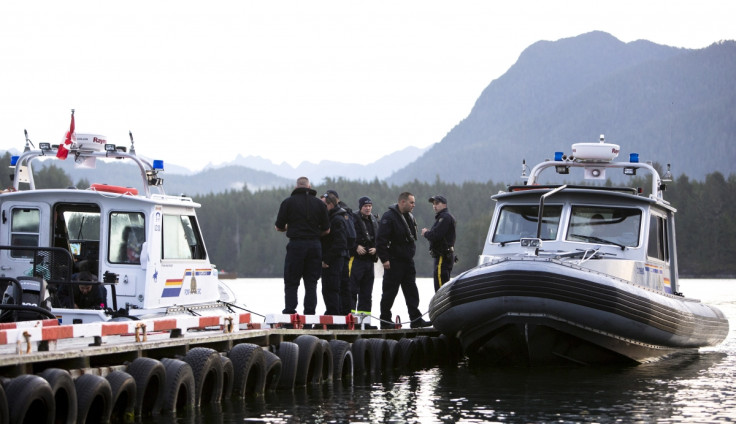 A freak wave caused a boat on a whale-watching trip to capsize as passengers crowded to one side of the top deck, investigators told the Guardian. Five Britons were killed when the vessel sank off Vancouver Island in British Columbia.
Marc Andre Poisson, director of marine investigations for the Canadian Transportation Safety Board (TSB), told a news conference on Wednesday, October 28, that the position of most people who were watching sea lions at the side of the boat would have "raised the centre of gravity", affecting the boat's stability.
He said that after questioning some of the 21 survivors, including three crew, "We also know that the sea conditions were such that a wave approached from the starboard quarter, that's the right of the vessel … we know that the vessel broached and then capsized."
The TSB said it would examine the vessel to find "stability information at the time of its construction, and examining any modifications that have been made since its initial construction that may have affected its stability".
The five people who died had been on the upper deck of the boat which sank near Tofino on Sunday, October 26, and had not been wearing life jackets, regional coroner Matt Brown told reporters.
They have been named as David Thomas, 50, and his son Stephen, 17, both from Swindon.
Other British fatalities were Nigel Hooker, 63, from Southampton, Salford-born Jack Slater, 76, who lived in Canada, and Katie Taylor, 29, from Litchfield, Staffordshire, who was also living in Canada. A 27-year-old Australian man who was on the boat with his girlfriend remains missing.
Canadian legislation does not currently require passengers to wear life jackets in that area on that model of boat, said Brown.
"Life jackets were on board. I believe that this vessel can occupy up to 50 individuals. There were 27 on board and there were life jackets available for all of them," he said.
The premier of British Columbia, Christy Clark, visited Tofino on Tuesday and praised the rescue efforts of fishermen from the Ahoushat First Nations community, a few miles north. "More lives would have been lost if not for the Ahoushat First Nation. We're all incredibly grateful," she said.
Though there was not time for a distress call to be made over the radio, a member of the crew found a distress flare in the water, which was spotted by an Ahousat fishing vessel, which raised the alarm over the radio, and went to rescue survivors. Rescue boats also set off from Tofino.
Bosses at Jamie's Whaling Station and Adventure Centre said the skipper of the vessel had been taking whale-watching expeditions for 20 years. Company owner James Bray said those on board the boat were not required to wear life jackets as the boat had enclosed compartments which could be difficult to exit in the event of an emergency.