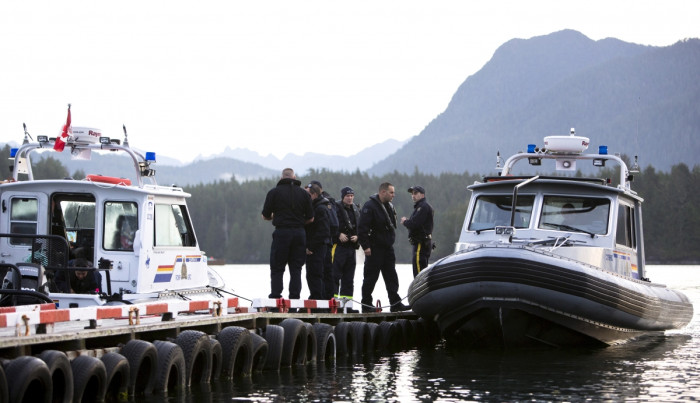 The names of all five British nationals who perished when a whale-watching boat capsized off Canada's western coast have now been released. The cause of the tragedy in British Columbia has not yet been confirmed but a local coroner said some of the victims may not have been wearing life jackets when the Leviathan II overturned.
The British victims were David Thomas, 50, and his 17-year-old son Stephen Thomas, from Swindon; Nigel Francis Hooker, 63, from Southampton; and two Britons who have lived in Canada for a number of years, 76-year-old Jack Slater, originally from Salford, and Katie Taylor, 29, who came from Lichfield in Staffordshire. A 27-year-old Australian man is still missing. Twenty-one others were rescued, some with minor injuries.
One survivor of the tragedy in waters off Tofino, Vancouver Island said the 20-metre Leviathan II operated by Jamie's Whaling Station was capsized by a freak wave. It has emerged that Jamie's Whaling Station was involved in a similar tragedy in 1998 when a large swell overturned a boat off Plover Reef. On that occasion the boat's operator and a German tourist died.
Local coroner Matt Brown told reporters none of the victims was wearing life jackets when recovered. "Life jackets were on board," said Brown. "I believe that this vessel can occupy up to 50 individuals. There were 27 on board and there were life jackets available for all of them."
However company owner Jamie Bray said passengers on larger vessels weren't required to wear life jackets as the boat has enclosed compartments, making it hard to exit in the event of a capsizing. "On larger vessels we're not required to have the passengers wear the life jackets. On smaller open boats they are," said Bray.
British Columbia Premier Christy Clark announced she will nominate two locals - Chief of the Ahousaht First Nation Greg Louie and Tofino mayor Josie Osborne - for citizenship awards on behalf of the local community. Clark said many more lives could have been lost if locals hadn't reacted so quickly.
"The Ahousaht First Nation did not miss a beat," said Clark. "First Nations on this coast have been fishing it for millennia. Nobody knows the water better, but they need more help. We'll be there to help them do that."