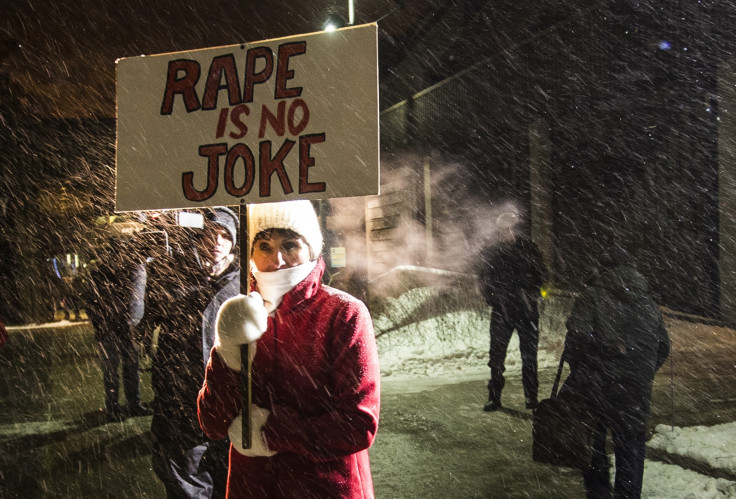 Protestors invaded Bill Cosby's final performance in Canada repeatedly shouting and heckling, while the comedian called for the audience "not to react".
About 30 protesters stood up and chanted "we believe the women" during Bill Cosby's performance on Friday night at Hamilton Place.
Less than 30 minutes into the show, several people stood up and unveiled T-shirts with the same message, according to the Toronto Star.
They continued shouting and blew rape whistles as they were taken out by security and police for disrupting the performance.
During the show, a woman got up from the front rows of the show to get a drink of water, QMI Agency reported. Cosby told her, "You have to be careful about drinking around me," which brought gasps from the 1,500-strong audience.
Some of the women who have accused the comedian of sex assault say that Cosby offered them drinks mixed with sedatives.
Outside Hamilton Place, around 150 demonstrators waved at ticket holders and passing vehicles. The protest was organised by the Woman Abuse Working Group, an umbrella organisation representing several groups including the Sexual Assault Centre.
Cosby is continuing to be challenged over alleged sexual assaults dating back decades. The number of women who have come forward so far is now 15.
The 77-year-old has denied the claims through his legal team. He has never been charged and refuses to speak about them.
Cosby acknowledged the controversy dogging him on his Canadian tour, talking to the audience, saying: "Whatever happens here tonight if there's some sort of outburst, we just have to remain calm and things will be taken care of."
Outside venues, protestors were brandishing placards saying: "Innocent till Drugged + raped" and "Rape is no joke".
One man was escorted from the Thursday night performance for shouting: "You are a rapist".
A publicist for Cosby later released a statement describing the situation as "one outburst" in a crowd of "loyal, patient and courageous" fans. The statement ended with Cosby bullishly saying: "I'm far from finished."
There was a high level of security at the venue, with bags searched and police as well as private security guards lining the theatre aisles for signs of possible disruption.
The three shows in Canada were Cosby's first since November when he had a string of performances cancelled over the accusations.