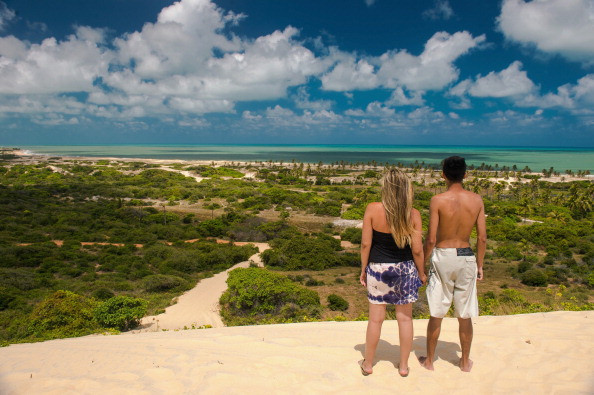 A Canadian man, who has been searching for a travel mate matching the name of his ex-girlfriend for a free round the world trip, has finally found his Ms. Right.
Jordan Axani, 28, from Toronto had purchased a heavily discounted world tour ticket in May with his then girlfriend Elizabeth Gallagher, however following their break-up, he decided not to let her non-transferrable ticket go to waste and began searching for another Elizabeth Gallagher to accompany him around the globe.
Since passport information was not presented at the time of the booking, the ticket could be used by any Canadian woman with the name matching Elizabeth Gallagher, reported ABC News.
Axani took to social media and searched for a travel mate on Reddit and to his luck, 18 Elizabeth Gallaghers with Canadian passports replied.
"It's strictly a platonic trip. It's going to be great," said Axani.
He finally decided on a 23-year-old Elizabeth Quinn Gallagher, a student from Cole Harbour, Nova Scotia.
Gallagher, who already has a boyfriend found the idea a little "crazy" at first, but after chatting with Axani over the phone, she decided to give it a go.
"It definitely did seem a little bit creepy at the beginning, but now that I talked to him it's less creepy and more awesome. This is totally sort of like as friends. I have a pretty serious boyfriend. We've been together for a while. We're planning on buying a house and we have a puppy, so yeah I'm not really looking for anything at all," said Gallagher, who noted that her boyfriend isn't thrilled about the idea.
"He understands that I've always wanted to travel so while he's not happy I'm taking off for nearly a month at Christmas with a random guy, he's smiling through it."
The trip that is planned to be shared online will begin on 21 December in New York City is valued at roughly £3,190-£4,468 ($5,000-$7,000) despite Axani paying only several thousand dollars at the time of purchase.
The duo will be travelling to Milan, Prague, Paris, Bangkok and New Delhi, and end their journey in Toronto on 12 January.
Axani has also set up an organisation called 'A Ticket Forward' with his brother after he was moved by some of the emails he had received following his posting.
He mentions one in particular, where an 8-year-old boy who is going blind wants to see the world.
A Ticket Forward realizes the dream of people who wish to see the world but don't have the finances.