Seven days since it sparked to life, the enormous wildfire in Alberta finally looks as if it could be controlled. Weather in Fort McMurray region cooled enough to offer some hope to authorities.
After more than 80,000 residents of the oil sands region were forced to abandon their homes, the area received some welcome showers on 8 May. While the 10-minute downpour was unable to help curb the fire, authorities have their fingers crossed that the cool weather will enable them to get a "death grip" on one of the worst natural disasters in Canada.
"It definitely is a positive point for us, for sure," said Alberta fire official Chad Morrison in a news briefing. "This is great fire fighting weather; we can really get in here and get a handle on this fire, and really get a death grip on it."
While officials had indicated on 7 May that the fire that had gutted over 161,000 hectares (397,831 acres) would double in size as it made its way towards Saskatchewan, by 8 May the blaze had slowed down. "With a little help from mother nature and a bit of a break in the weather, along with the hard work of about 500 fire fighters, most fire lines in Fort McMurray had been contained. The threat to oil-sand mines north of the city had also diminished, at least for now," Morrison added.
Cool weather and rains are expected over the next two to three days and the accompanying westerly winds will help move the fire away from the oil camps. Commending the efforts of the first response teams, Alberta premier Rachel Notley said: "The fire is quite a bit smaller than we had feared. What an amazing job you've done."
The raging fire has taken a toll on Fort McMurray and despite 80% of the buildings being intact residents may be unable to return home for some time. Moreover, gas supply to the town has been cut off, electrical supply has been damaged and the water is not suitable for consumption.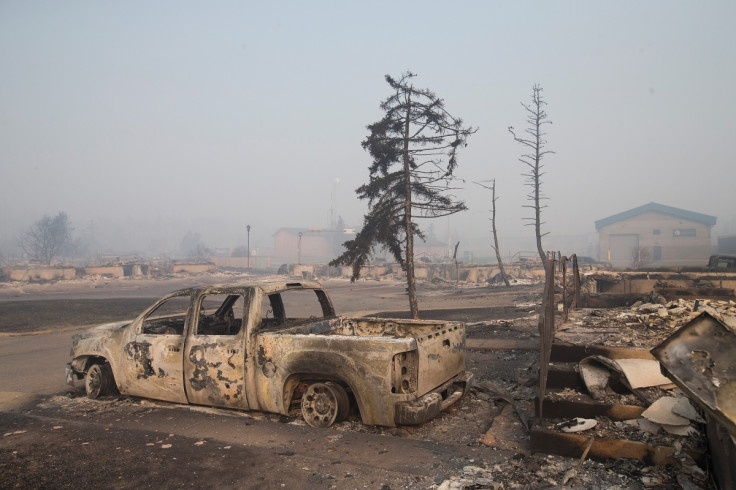 Scott Long, executive director of the Alberta Emergency Management Agency, said that the second phase of the response plan will be initiated on 9 May to assess the situation."We're going to start getting some folks on the ground that can start having a look about damage assessments and getting a feel for it," long explained.
The two fatalities reported in connection with the wildfires were not directly by the blaze, but due to a vehicle accident during evacuation.