He may be an A list movie star worth millions, but Leonardo DiCaprio proved he is generous enough to share his fortune for a worthy cause.
The Wolf of Wall Street actor donated a Banksy from his personal art collection to a celebrity auction at the amfAR gala at the Hotel Du Cap-Eden Roc in Antibes, France on 21 May.
The work sold for $1.1m (£700,000) at an event aimed to raise funds for AIDS awareness.
Another highlight at the auction was the sale of artist Jeff Koons' Coloring Book sculpture. It was bought by Russian billionaire Leonard Blavatnik for $13m.
The star-studded black tie gala saw Jake Gyllenhaal, Marion Cotillard, Sienna Miller, Adrien Brody and Bollywood actress Aishwarya Rai Bachchan take a break from the red carpet at the Cannes Film Festival to lend their support at the fundraiser.
The event was hosted by model Karlie Kloss. The absence of the Sharon Stone, who annually hosts the event, sparked concern about the actress's health
In a statement to The Associated Press, the 57-year-old explained that she could not attend "due to work commitments".
"I am grateful that on this - my 20th year with amfAR - we have become a solid community that has grown to the point of functioning and succeeding in fundraising and HIV/AIDS awareness," she added.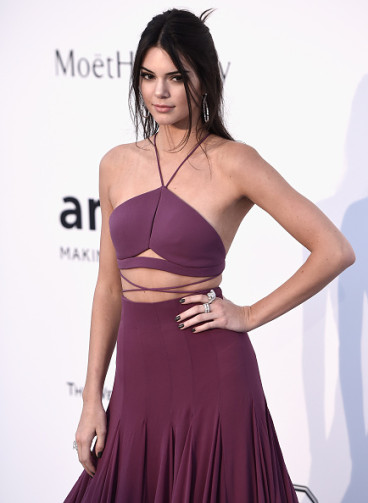 The event attracted the model set with Kendall Jenner, Jordan Dunne and Lara Croft hitting the dance floor with British pop star Rita Ora.
British band Imagine Dragons took to the stage for a lively act, while Charli XCX sang at the high profile event. A highlight was a rousing performance of Family Affair by Mary J Blige.
The event also attracted a royal presence with The Duchess of York Sarah Ferguson, 55, making an unexpected appearance and was spotted posing for a photo with heiress Paris Hilton.
"Giving back is close to my heart and I think it's important when you're on the public stage to be able to spread the awareness," she said.
Classical singer Andrea Bocelli also offered a dinner for 12 people with him, complete with a performance which sold twice for a €1m (£710,000; $1.1m) each.
However, the highlight of the event, which is now in its 22nd year, saw a sculpture by American artist Jeff Koons sell for €12m, topping everything the evening.
The amFAR gala has raised over $30m to fight AIDS.