Cara Delevingne birthday: Taylor Swift, Kim Kardashian and more send wishes to Paper Towns actress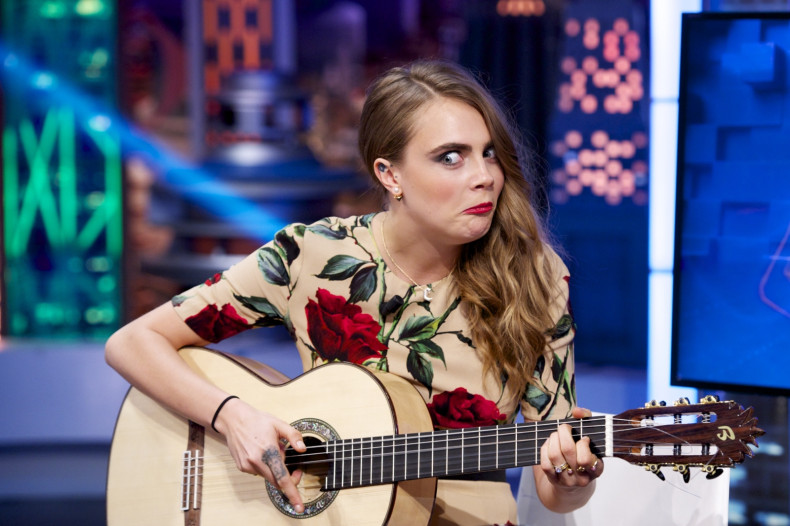 Is Cara Delevingne the most popular girl in show-business right now? Instagram and Twitter seem to suggest so yesterday, as celebrities in their droves took to their personal social media accounts to wish her a happy birthday.
The Suicide Squad star turned 23-years-old on the 12 August and it's no secret that the model-turned-actress has a lot of friends in Hollywood. From hanging out with the Kardashians to spending time with her clique consisting of Taylor Swift, Gigi Hadid and Karlie Kloss etc, the British-born star is seems to love socialising and having fun with those closest to her, and her birthday seemed no exception even if they weren't all with her on the day.
Take a look at all the famous faces that wished Delevingne a great day for her birthday, below from Kim Kardashian and Pharrell Williams to her sister Poppy and her Paper Towns co-star Nat Wolff...
Taylor Swift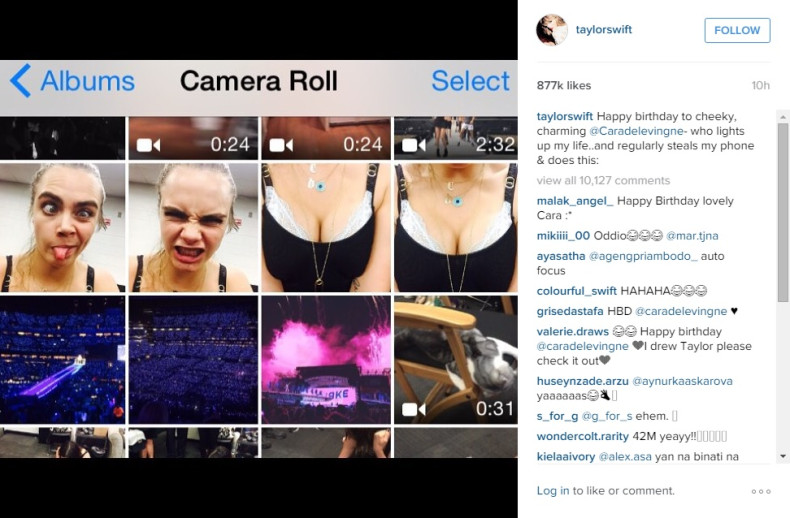 Taylor Swift shared a snapshot of her iPhone's camera roll on Instagram showcasing a whole bunch of selfies that Delevingne had taken on her friend's mobile. The Style singer accompanied the photo with the caption: "Happy birthday to cheeky, charming @Caradelevingne – who lights up my life.. and regularly steals my phone & does this:"
Gigi Hadid
Both Swift's bestie and Delevingne's, model Gigi Hadid took to Twitter to post some images of Delevingne – a couple of candid Polaroid shots from when the pair have hung out over the years. She tweeted alongside the photos: "Found these today & ITS MY C BABY's BIRTHDAY!!!!!!!!! I love you @Caradelevingne" followed by several birthday-related emojis such as cakes and balloons.
Poppy Delevingne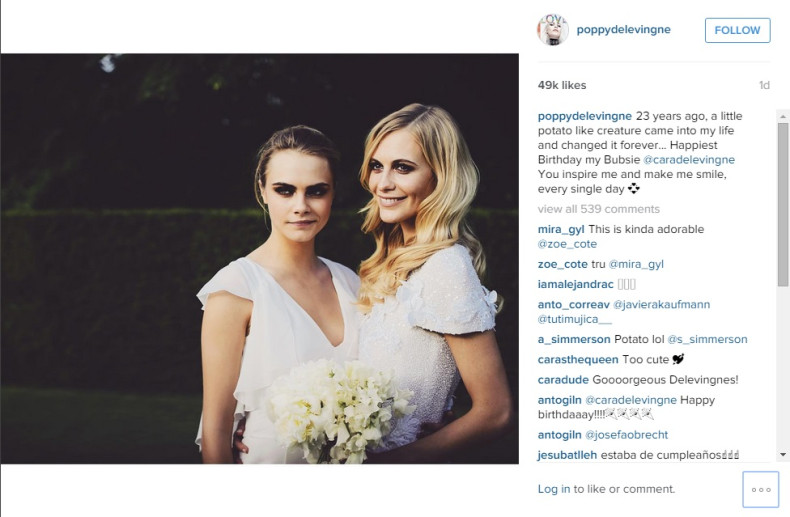 Model and socialite Poppy Delevingne reminisced in her post to her sister, saying: "23 years ago, a little potato like creature came into my life and changed it forever... Happiest Birthday my Bubsie @caradelevingne You inspire me and make me smile, every single day."
Kim Kardashian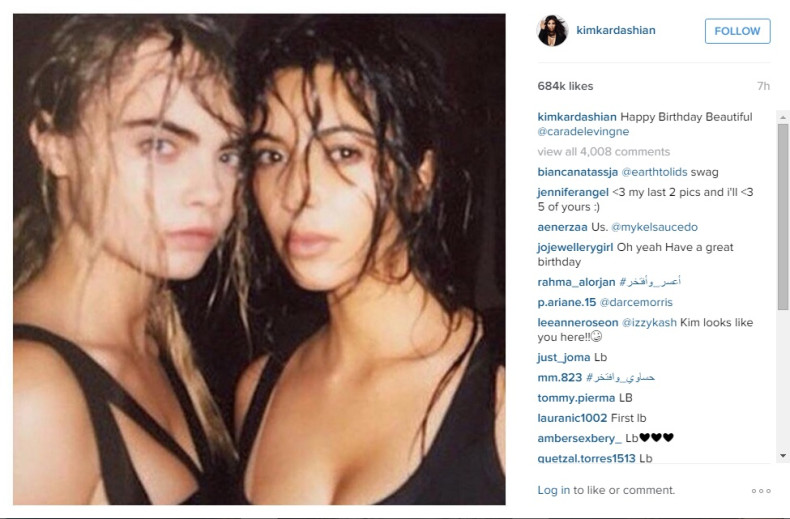 Often seen out with members of the Kardashian and Jenner clan, Delevingne seems to be good friends with the large family, so much so that Kim Kardashian made sure she wished her a happy birthday as she turned 23.
Annie Clark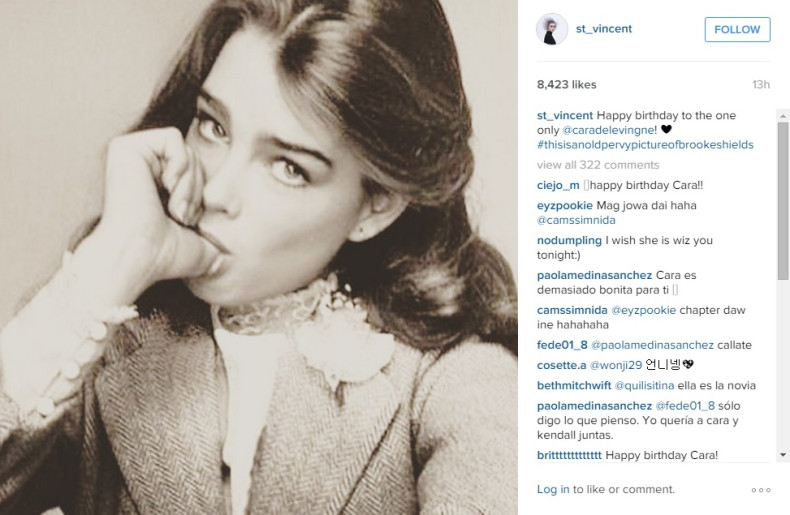 Annie Clark (AKA by her stage name St. Vincent) wished girlfriend Delevingne a happy birthday with a photograph of a young Brooke Shields that must have signified some kind of inside joke between the pair. She shared the post with the hashtag "#thisisanoldpervypictureofbrookeshields" Okay...
Jaime King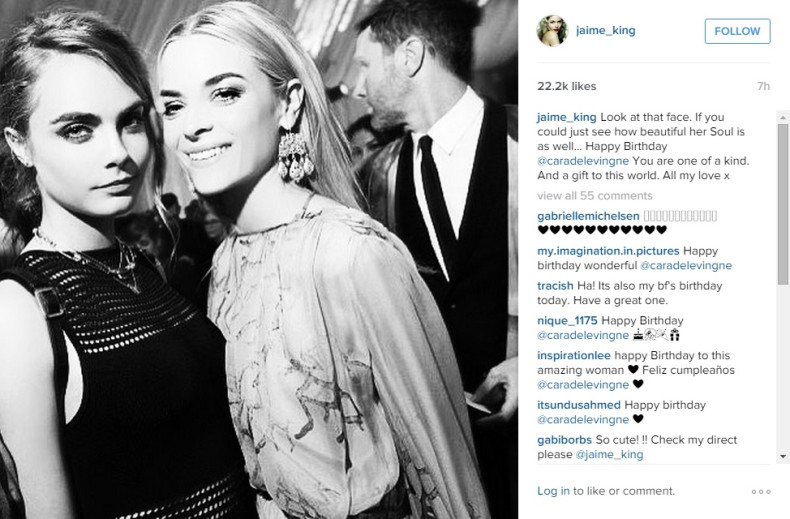 Hart Of Dixie's star Jaime King wrote a heartfelt messaged directed at the Topshop model on Instagram alongside a monochrome picture of the two of them. Her caption read: "Look at that face. If you could just see how beautiful her Soul is as well... Happy Birthday @caradelevingne You are one of a kind. And a gift to this world. All my love x"
Hailee Steinfeld
Pitch Perfect 2 star Hailee Steinfeld wrote to Delevingne on Twitter, saying: "HAPPY BIRTHDAY to my spirit animal @Caradelevingne" alongside an icon of a heart.
Miley Cyrus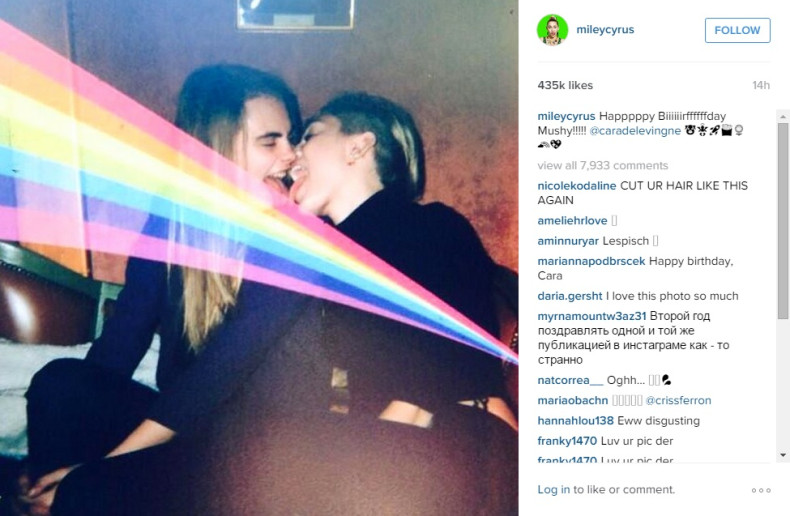 It wouldn't be Miley Cyrus if she didn't have her tongue hanging out, and her birthday wishes for Delevingne made no exception to this rule. The Wrecking Ball hitmaker shared a a photograph of herself and the birthday girl accompanied with the caption: "Happpppy Biiiiiirffffffday Mushy!!!!! @caradelevingne"
Pharrell Williams
Musician Pharrell Williams called Delevingne his "lil sis" in his post, while also confessing that she "always makes [him] laugh". Judging by the goofy faces she's pulling and the grin on his face in the photograph he shared. we can believe that is true.
Marc Jacobs
Before she made her way into acting, Delevingne was predominantly a model, and has worked with a number of designers in the past. One that she clearly made a lasting impression on is Marc Jacobs who posted a GIF of the young star for her birthday, alongside the touching caption: "Wishing the inimitable @caradelevingne a happy happy birthday!! EMBRACE YOUR WEIRDNESS"
Mario Testino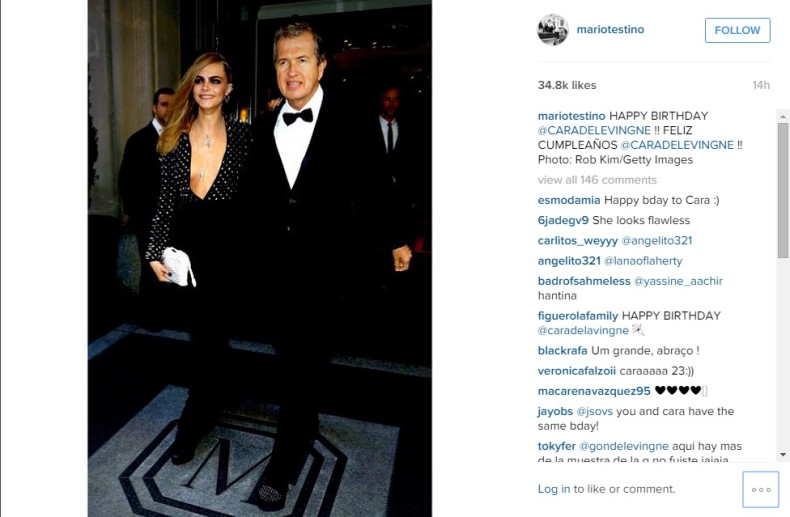 Another creative that Delevingne must have left a mark on is legendary photographer Mario Testino, who posted an image of himself and the model/actress spending time together. Peruvian Testino wrote: "HAPPY BIRTHDAY@CARADELEVINGNE !! FELIZ CUMPLEAÑOS @CARADELEVINGNE !!" alongside the photo.
Edward Enninful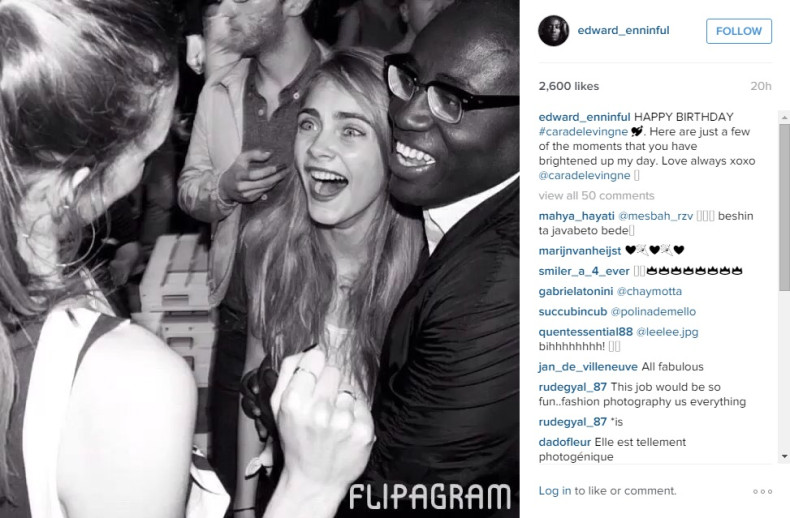 W Magazine fashion and style director Edward Enninful sent "love always" to Delevingne yesterday, alongside a Flipagram containing several images of the pair together and numerous photoshoots that they may have worked on together.
Nat and Alex Wolff
Delevingne's Paper Towns co-star Nat Wolff and his musician brother Alex also took to Twitter to wish the "lovely" Delevingne a good day. They posted their comment with a video entitled "Know Your Co-Star: Cara Delevingne and Nat Wolff"
Halston Sage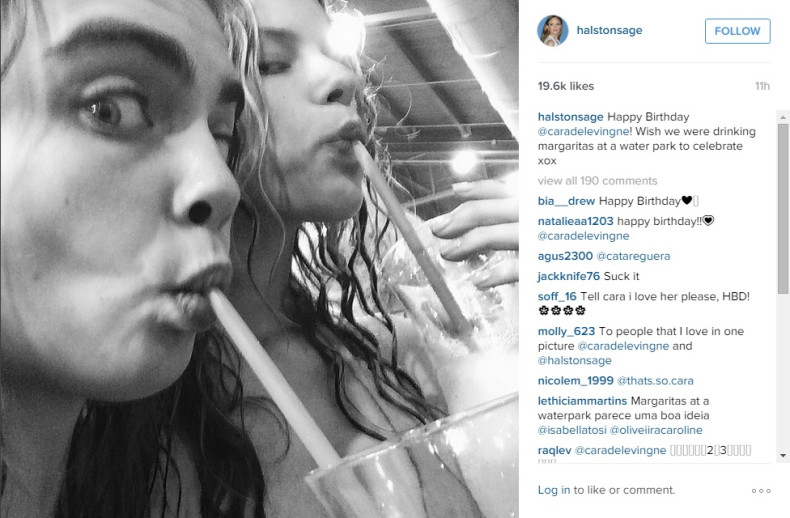 Carrying on from Wolff's well-wishes for the star, fellow Paper Towns actress Halston Sage posted an old photo of herself and her co-star alongside her happy birthday message, wishing that they "were drinking margaritas at a water park to celebrate." Back in July, Delevingne revealed that she took the cast of the latest John Green adaptation to a water park to let off some steam between filming.