Carlsberg has taken the logical next step from producing one of the most popular brands of beer in the world by releasing its own range of male grooming products.
The company's new shampoo and body lotion range, which unsurprisingly has beer as one of its main ingredients, has been developed by in-house scientists in Denmark.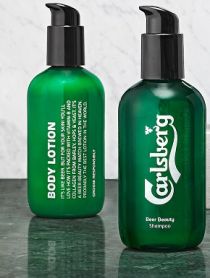 If anyone who has ever accidentally had beer poured over them at a bar is worried the new products will leave them smelling of a student hall carpet, the bottles actually contain freeze-dried Carlsberg and give off a lemony scent.
The idea to use beer as a beauty product is not that extreme. The drink's most basic ingredients – malt and hops – contain plenty of protein and vitamin B that can strengthen hair cuticles and make it shinier.
Darren Morris, marketing controller at Carlsberg UK, said: "We're known as a brand that likes to do the unexpected, and we think that these latest developments will appeal to today's modern drinker who cares about how they look just as much as what they drink."
The full grooming set can be purchased for £19.99, or roughly the price of a 30 pack of Carlsberg.