Carmen Miranda: Google doodle celebrates iconic samba singer-dancer and film star
Google marks star's 108th birthday with doodle showcasing her trademark fruit-filled turban.

Google has marked the 108th birthday of iconic Brazilian-Portuguese star Carmen Miranda with a colourful illustration of her dancing in her trademark fruit-filled turban.
The Portuguese-born performer was born on 9 February 1909 and named Maria do Carmo Miranda da Cunha after Georges Bizet's opera Carmen, by her father who loved opera.
Her father emigrated to Brazil in 1909 where he opened a barber shop in Rio de Janerio. Carmen's mother Maria Emilia Miranda, followed the following year with her two daughters - Olinda and Carmen - in tow. The couple had four more children in Brazil.
Supported by both her parents, Miranda became a popular radio star and film star in Brazil in the 1920s and 1930s and her songs were featured in several first sound films made in the country.
In 1939, a Broadway businessman Lee Shubert gave her a break when he offered Miranda an eight-week contract to perform in the Streets of Paris on Broadway after he saw her performance in a casino in Urca, Rio de Janeiro.
Nothing stopped her after that. She got her Hollywood break with her first film, Down Argentine Way in 1940 which also featured Don Ameche and Betty Grable. In the same year, she was voted the third most popular personality in the US.
Miranda was also given the honour of singing and dancing for US President Franklin Roosevelt with her group.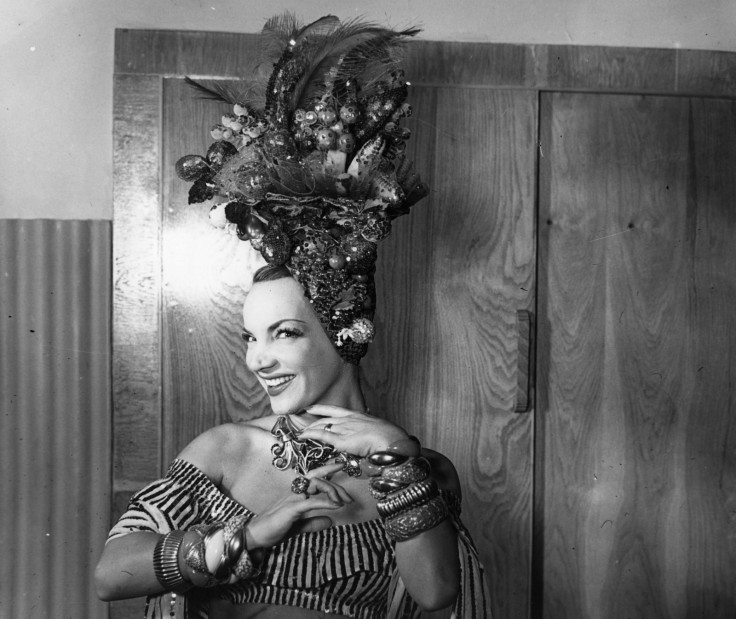 The singer, dancer and actress, by then was famous for her signature fruit hat outfit that she donned in her American films. By 1945, Miranda became the highest paid woman in the US.
She was also the first South American to be honoured with a star in the famous Hollywood Walk of Fame.
Her well-known songs include Tico-Tico no Fuba, South American Way, Chica Chica Boom Chic and Rebola a Bola.
Miranda died of a heart attack on 4 August 1955, when she was only 46 years old, after filming an episode of the Jimmy Durante Show.
She was buried in Rio de Janeiro, where a national period of mourning was declared by the Brazilian government. More than half a million Brazilians escorted her funeral cortege to her resting place.
In 1956, her family donated her belongings towards the setting up of the Carmen Miranda Museum, which opened on 5 August 1976.
© Copyright IBTimes 2023. All rights reserved.