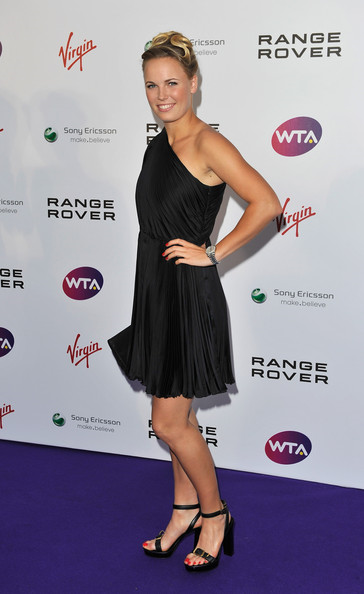 Caroline Wozniacki, No. 1 in the tennis world, has been romantically linked with U.S. Open champion Rory McIlroy.
Both are believed to have first met at the World Heavyweight title boxing match between David Haye and Wladimir Klitschko in Hamburg on July 2.
The young golfer had formed a close friendship with the 21-year-old Danish tennis star and made two visits to Wimbledon to watch her compete.
Speculation soon began about his relationship with the young tennis star, labelled "a county club couple made in heaven" by one sports blog. The pair were spotted having an intimate dinner together at a London restaurant earlier this month.
Both were also noted exchanging flirty tweets on their mutual Twitter sites, including a cheeky birthday greeting McIlroy sent the tennis player on her 21st birthday last Monday, in which he tweeted: "You're getting old."
She replied: "At least now you will be able to buy me a drink in the U.S." and "Not only in Hamburg," a few hours later.
McIlroy just recently spilt with his high school sweetheart and long-term girlfriend Holly Sweeney before playing at last week's Open Championship.
A statement released by the Co Down star's management company, International Sports Management, last night confirmed the end of the young golf star's relationship with his former childhood sweetheart.
It said: "Rory McIlroy's long-time relationship with Holly Sweeney came to an amicable end before the Open Championship."
Previously, McIlroy admitted that he made a mistake when he broke off his relationship with Sweeney. She was pictured at his side during homecoming celebrations following his triumphant win at the U.S. Open this summer and has been the subject of much media coverage since his astonishing victory.
Soon after McIlroy failed to win back-to-back majors at Sandwich, he attempted to put the defeat behind him over dinner in London with Wozniacki.