A ginger cat who rescued a homeless busker from drug addiction is to meet Kate Middleton who will be there in support of the Action on Addiction charity. A Street Cat Called Bob is the tale of James Bowen, whose life was turned around by a stray cat.
On methadone as part of a programme to wean him off heroin, James was barely scraping an existence busking in London's Covent Garden when he returned to his sheltered accommodation in Tottenham one evening to find a ginger tom on the doorstep.
The starving cat appeared to be as lonely as James, who took pity on the animal and began feeding him.
After failing to find him an owner, James adopted the stray and christened him Bob.
James nursed Bob back to health, spending his limited funds on cat food and caring for his new companion. The only inconvenience was Bob's refusal to use a litter tray and insistence on being walked down the five flights of stairs from the flat to go out to the loo.
James's usual routine was to put Bob out for the day before setting off on the bus into town to busk for tourists in Covent Garden.
However, Bob began following him and it became increasingly difficult to dissuade him, especially as there were dangerous roads to be crossed. One day there was nothing for it but to put Bob on a makeshift lead and take him along. Bob travelled sitting on James's shoulders.
The trouble was that so many cat-mad passers-by stopped him to stroke the animal that James arrived late at his pitch, secretly cursing Bob for thereby costing him some of his usual £25-a-day takings.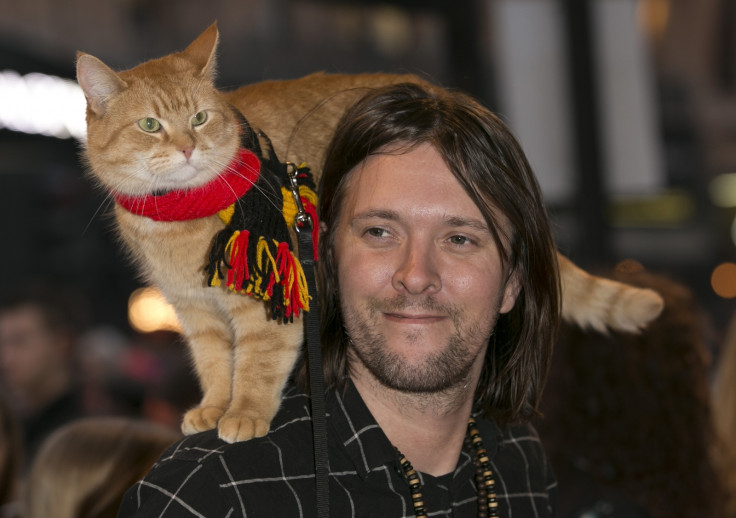 Yet within minutes people who would normally have walked by without giving James a second glance were lingering to make a fuss of the cat sitting sedately in his guitar case. Most of them made a donation. By the end of the day, James had racked up more than £60.
James turned the story of his life with Bob into a book, which has new been filmed, with Clash of the Titans star Luke Treadaway as James, and Bob playing himself.
The Duchess of Cambridge will attend the film's premiere in her capacity as patron of Action on Addiction, a charity which helps people suffering from drug addiction, according to the Daily Mail.