Catalonia's chaotic referendum on independence brings Spain closer than it has ever been to breaking up, putting prime minister Mariano Rajoy under intense pressure to hold the country together.
It also poses fundamental questions for the European Union about how to react when one of its core nations sends in police troops to stop citizens taking part in an election.
European leaders have been loathed to condemn Spain over this issue.
A spokesman for European Commission president Jean-Claude Juncker said this was an "internal matter for Spain" adding that "violence can never be an instrument in politics".
The spokesman added: "The Commission believes these are times for unity and stability, not divisiveness and fragmentation. We call on all relevant players to move from confrontation to dialogue. We trust the leadership of Mariano Rajoy to manage this difficult process in light with Spanish constitution."
After Sunday's (1 October) vote Catalan leader Carles Puigdemont said the region had "won the right to an independent state" after the poll, even though Spain's constitutional court had previously ruled that the referendum was illegal.
But the Catalan leader vowed he would keep his pledge to declare independence unilaterally within 48 hours of a decisive vote.
However, Rajoy said Catalans had been fooled into taking part in an illegal poll. He said: "There has not been a referendum on self-determination in Catalonia."
Polling was marred by violent clashes between police and Catalanians, which saw 2.2m people out of 5.3 million registered voters going to the polls, according to Catalan authorities. Officials added that 90% of those who voted backed independence, with a turnout of 42.3%.
But in violent scenes beamed around the world, officers in riot gear fired rubber bullets into crowds and beat would-be voters with batons as they queued at polling stations.
Hundreds injured
Video footage and photos showed officers from Spain's national police - 4,000 of whom had been drafted in by the government to help quash the ballot - fighting with elderly voters, some of whom were left bleeding, and dragging young women away from polling stations by their hair. The Catalan government claimed 844 people had been injured in the fracas.
FC Barcelona initially suspended its home game against Las Palmas as a precaution, but ended up playing behind closed doors after Spain's football federation rejected the postponement.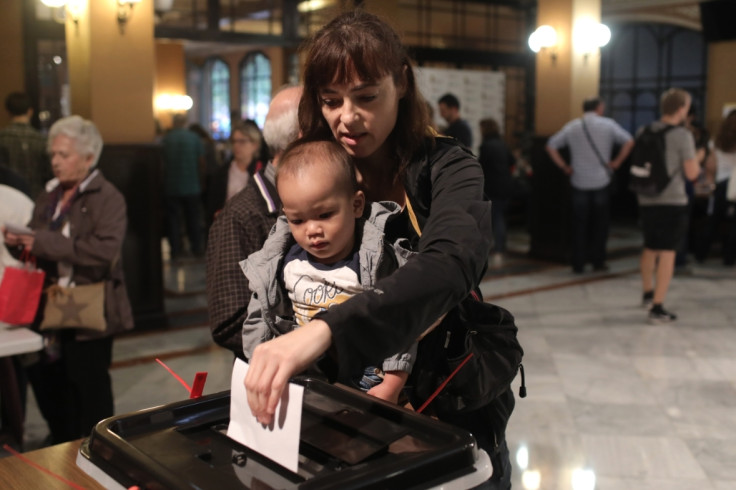 Catalonia, is a wealthy region in the northeast of the country with a population of 7.5m people. It has its own language and culture but is not recognised as a separate nation by the Spanish state.
The British Foreign Office stated: "The referendum is a matter for the Spanish government and people. We want to see Spanish law and the Spanish constitution respected and the rule of law upheld. Spain is a close ally and good friend, whose strength and unity matters to us."
But Scottish first minister Nicola Sturgeon branded the British statement "shamefully weak". She added: "A true friend of Spain would tell them today's actions was wrong and damaging."
Spain faces its most pressing constitutional crisis since the country's return to democracy in the late 1970s. Rajoy is adamant that it is his government's duty to uphold the law and preserve the integrity of the Spanish state.
But his hold on power is tenuous. After two inconclusive legislative elections in December 2015 and June 2016, he is in charge of a minority government that could fall if other parties seek to take political advantage of the crisis in Catalonia.
A few days before the regional referendum Rajoy's government was forced to withdraw its 2018 budget from parliament, saying it did not have the votes to pass it.
EU silent over Spain
But on the other side of the divide Catalonia's secessionists are a disparate mix of the region's middle-class, its centre-right nationalists and the radical left.
Middle class Catalonia nationalists say they are no longer satisfied with the autonomy given to the region under Spain's 1978 constitution. But on the extreme left, the hope is not merely Catalonian independence, but to bring down the capitalist economic order.
Some Catalonia officials say the EU is giving Spain an easy ride compared to other member states, because it is a valued member of the European bloc with an important stake in Brexit negotiations.
"The fundamental rights of EU citizens are being damaged by this disproportionate use of violence against peaceful citizens," Amadeu Altafaj, the permanent representative of the Catalan government to the EU in Brussels told the Telegraph.
"For some countries like Poland there are strict standards but when it comes to Spain, there seems to be a lot of complacency."
Perhaps the most sensible way ahead for Madrid and Catalonia's authorities to calm tensions is to open talks on an upgraded form of regional self-government.
But images of the police using batons and rubber bullets against voters have plunged the country into its biggest political crisis in decades. While the EU will come under pressure to show nimble leadership, at a time when many critics are calling for radical reforms at a heavily bureaucratic organisation.