Group E: FT- Schalke 04 0-3 Chelsea; FT- Steaua Bucharest 1-1 FC Basel
Group F: FT- Arsenal 1-2 Borussia Dortmund; FT- Marseille 1-2 Napoli
Group G: FT- FC Porto 0-1 Zenit St Petersburg; FT- Austria Vienna 0-3 Atletico Madrid
Group H: FT- Celtic 2-1 Ajax; FT- AC Milan 1-1 Barcelona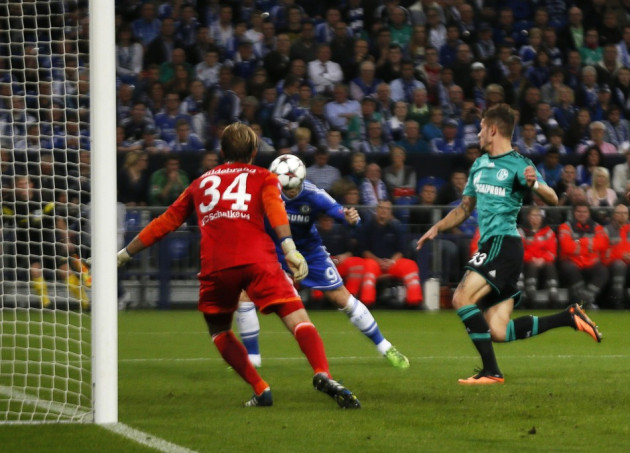 21:43: Elsewhere in Europe tonight FC Porto were defeated by Zenit, Napoli overcame Marseille and Atletico Madrid were the big winners of the night with a 3-0 win over Austria Vienna.
Well that's the end of the night as far as the live football is concerned. Thanks for joining me once again. Until tomorrow night where we follow the fortunes of Manchester City and Manchester United, it's goodbye.
21:40: Terrific wins for Chelsea after Fernando Torres' double and Eden Hazard's late goal swept aside Schalke 04. As for Arsenal, they suffer their first defeat since the opening day of the season against Aston Villa. Robert Lewandowski struck late but The Gunners can take pride in their performance.
As for 10-man Celtic they scrap through against Ajax despite Lasse Schone scoring a stunner late on for Franck de Boer's men. Big win for Neil Lennon's men, given that Milan were held by Barcelona. Hope remains.
Full time: Celtic 2-1 Ajax
Goal: Celtic 2-1 Ajax (Lasse Schone)
Full time: Arsenal 1-2 Borusia Dortmund

Full time: Schalke 04 0-3 Chelsea
21:32: Chelsea found off an ideal evening with a slick third goal. The ball is cleared the Hazard breaks over the half-way line and as Torres makes a decoy run the Belgian shifts to the right left and slides the ball home.
Red card: Nir Biton (Celtic)
Goal: Marseille 1-2 Napoli (Andre Ayew)
Goal: Schalke 04 0-3 Chelsea (Eden Hazard)

Goal: Steaua Bucharest 1-1 FC Basel
Goal: FC Porto 0-1 Zenit St Petersburg (Alexandr Kerzhakov)
21:26: Dortmund complete the perfect away performance with what looks like a late winner. Arenal are caught high up the pitch and Grosskreutz's cross is towards the backpost where Robert lewandowksi slots home on the volley. Lovely goal.
Goal: Arsenal 1-2 Borussia Dortmund (Robert Lewandowski)
21:20: Arsenal really in the ascendency now and Cazorla is once against the orchestrator. He cuts inside after the receiving the ball from Rosicky but his shot is brilliantly charged down. You feel there is a moment for the hosts here.
21:16: Arsenal have been much the better side in this second half and Dortmund are struggling to get hold of Santi Cazorla. The Spaniard almost gives The Gunners the lead after being found by Ozil but hit the angle of post and bar.
Goal: Marseille 0-2 Napoli (Duvan Zapata)
21:13: Brilliant goal from Chelsea and that should be the three points. Howedes plays a poor pass deep inside his own half and with plenty of players committed, Chelsea have a break on. After Oscar gets to the ball first on the half-way line the Brazilian drives through and after beating the final defender, he sets up Torres, who comes inside Hildebrand and taps into an empty net.
Goal: Schalke 04 0-2 Chelsea (Fernando Torres)
21:09: Ball in the net at the emirates as Ramsey puts in from Mertesacker's initial header. Chance in Germany as Howedes heads wide. Chelsea keeping it tight it must be said.
21:07: Yellow card for Robert Lewandowksi after an elbow on Laurent Koscielny. A tad fortunate is the Pole but it must be said there didn't seem to be *much* intent.
21:02: Jack Wilshere replaced by Santi Cazorla at the Emirates. In Germany, Fernando Torres heads wide from a Lampard corner.
21:01: Ajax are somehow not level as Forster makes a terrific save from Serero and they are immediately punished. Samaras' shot is blocked and as the ball comes back to Beram Kayal, his placed shot take a wicket deflection off Stefano Denswil and roles into the corner. Celtic can count themselves fortunate again.
Goal: Celtic 2-0 Ajax (Beram Kayal)
Goal: Austria Vienna 0-3 Atletico Madrid (Diego Costa)
20:55: Chelsea almost double their lead early in the second half. Frank Lampard fakes a shot from a long-rang free-kick and Fernando Torres pulls away and flicks a header which leaves Hildebrand motionless, but which bounces off the bar. Let off for the hosts
20:51: All but one game tonight has a good, that being Porto-Zenit, which does of course have the hosts down to ten men. So incident wherever you look tonight. Sense me clutching at straws?
Goal: Steaua Bucharest 0-1 FC Basel (Marcelo Diaz)
20:48: If you've followed me on the live text before you'll know how much I can't stand the rhetoric which UEFA force their teams to churn out prior to games. Across Europe a sign was handed between each of the players before kick-off. Hope the official UEFA photographer got their picture-book moment.
20:44: Here we go then. second halfs underwasy across Europe.
20:37: A good half for the British trio as we reach the break across Europe. Chelsea have been ahead the fifth minute have ridden their luck with Petr Cech saving well from Kevin Prince Boateng. Arsenal are level at the break after Olivier Giroud cancelled out Henrikh Mkhitaryan's effort. As for Celtic, they are ahead in Glasgow through James Forest' penalty but Ajax will rightly be furious after a soft award.
Ready for more? Alright then.
Half time: Celtic 1-0 Ajax

Half time: Arsenal 1-1 Borussia Dortmund

Half time: Schalke 04 0-1 Chelsea
20:32: After Anthony Stokes is questionable felled James Forest steps up and cool as you like slams the ball into the top corner. Fine finish but Ajax will likely be furious.
Goal: Celtic 1-0 Ajax (James Forrest)
Penalty for Celtic
Marseille 0-1 Napoli (Jose Callejon)
20:29: It's been a good spell for Arsenal and they are rewarded with an equaliser just before the break. Ramsey works it well and Sagna's cross cause confusion between Subotic and Weidenfeller and Giroud capitalises and thumps into an empty net.
Goal: Arsenal 1-1 Borussia Dortmund (Olivier Giroud)
20:27: Chance for Arsenal. Giroud gets away from Hummels and when his cross is cleared Rosicky hits one from 20 yards which is cleared off the line. In Germany, Petr Cech comes to Chelsea's rescue with two superb save the first from Kevin Prince Boateng and the second from the subsequent corner from Roman Neustader.
20:30: Injury scare for Arsenal and it once against revolves around Jack Wilshere. A through to the England midfielder is over hit and Weidenfeller clears the ball against Wilshere and the ball goes behind. But the youngster has gone down seemingly innocuously and while he has returned to the field after receiving treatment he looks in some pain. I doubt he'll stay ion at this stage.
20:17: First real chance at Celtic Park and it goes to the visitors. Paulsson's header from a free-kick is goal wards and with Forster sprawling the ball strikes the post.
20:13: Forgive the lack of updates from Celtic Park but the opening quarter has passed without much incident with Ajax as you'd expect dominating much of the play. No breakthrough as yet.
Goal: AC Milan 1-1 Barcelona (Lionel Messi)

20:10: Giroud wins a free kick on the left hand side of the penalty area after turned Mata Hummels. Ozil is over but the looping free-kick finds Koscielny who heads over
20:08: Chelsea are fortunate to be still ahead as their defence is caught awfully square and Jermaine Jones forces Cech into a superb save which Terry does well not to put into his own net. The hosts are looking threatening.
Goal: Austria Vienna 0-2 Atletico Madrid (Diego Costa)
20:04: Out of nothing, Dortmund have the lead. Ramsey gives the ball away on the edge of his own box and after Reus shifts the ball on to Henrikh Mkhitaryan the Armenia roles the ball beyond Szczesny.
Goal: Arsenal 0-1 Borussia Dortmund (Henrikh Mkhitaryan)
19:59: Neither side have settled at the Emirates where Arsenal are finding cutting through Borussia Dortmund difficult in the early moments. Sagna cuts inside from the right but can't find Ramsey. Half chance for Dortmund as Reus shoots harmlessly wide from 20 yards.
19:57: Former Real Madrid man Robinho scores against Barcelona. That will go down well in Catalunia.
Goal: AC MIlan 1-0 Barcelona (Robinho)
19:54: Drama from Portugal where FC Porto are down to ten men after just six minute after the dismissal of Hector Herrera. Anything but an ideal start for the hosts.
Goal: Austria Vienna 0-1 Atletico Madrid (Raul Garcia)

19:52: What a start for Chelsea! Andre Schurrle wins a corner and Lampard's delivery find Ivanovic, who ghosts in at the first post, flicks goal wards and Fernando Torres is waiting at the back post to head home on his 100th Chelsea start.
Goal: Schalke 04 0-1 Chelsea (Fernando Torres)
19:48: And underway at Arsenal too. Jurgen Klopp sitting in the stands as his UEFA touchline ban continues.
19:47: They've wasted no time in Germany where Chelsea are already underway. as they are in Glasgow where Celtic play Ajax
19:42: Let us not forget that it is Arsene Wenger's birthday day today, and 64 years young he certainly will be if he can pull off a win against Dortmund. Talking before the game, Wenger has spoken of how Arsenal's belief has transformed since the win over Bayern Munich last season.
19:36: Well unless you've been under a rock today, then you'll have noticed that sir Alex Ferguson has released his autobiography to some acclaim. He used the book to criticise a number of players including former captain Roy Keane. Speaking on ITV1, Keane has replied: "He doesn't know the meaning of loyalty." Nice and understated then....
19:30: As for Chelsea, well having lost their opening game against Basel they can ill afford any more mistakes against a Schalke who are among the dark horses in this competition. In Julian Draxler the Germans have one of the finest players in Europe. Chelsea beware.
19:20: Arsenal face a real acid test of their credentials tonight. Against Norwich City, The Gunners were as good as they've been for a decade under Wenger but they face a Borussia Dortmund side who finished as Champions League runners up last season and have shown no signs of a hangover from Bayern Munich's dominance. Jurgen Klopp's side have come to win.
19:07: Just over 30 minutes until kick-off across Europe, so let's get some teams shall we?
Schalke 04: Hildebrand, Uchida, Höwedes, Matip, Aogo, Neustädter, Jones, Clemens, Meyer, Draxler, Boateng.
Substitutes: Fährmann, Hoogland, Felipe Santana, Kolasinac, Goretzka, Fuchs, Szalai.
Chelsea: Cech, Ivanovic, Cahill, Terry, Azpilicueta, Ramires, Lampard, Schurrle, Oscar, Hazard, Torres.
Substitutes: Schwarzer, David Luiz, Bertrand, Mikel, Willian, Mata, Eto'o.
Arsenal: Szczesny, Sagna, Mertesacker, Koscielny, Gibbs, Arteta, Ramsey, Wilshere, Rosicky, Ozil, Giroud
Substitutes: Fabianski, Vermaelen, Monreal, Jenkinson, Cazorla, Gnabry, Bendtner
Borussia Dortmund: Weidenfeller; Großkreutz, Subotic, Hummels, Schmelzer; Bender, Şahin; Kuba, Mkhitaryan, Reus; Lewandowski
Substitutes: Langerak, Durm, Sokratis, Kirch, Hofmann, Aubameyang, Schieber
19:00: It's that time again. Take your nose out of Fergie's book and look forward to another cracking night of Champions League football. Arsenal, Chelsea, Celtic and Barcelona are all in action and frankly it's got a cracker written all over it. Hop on.