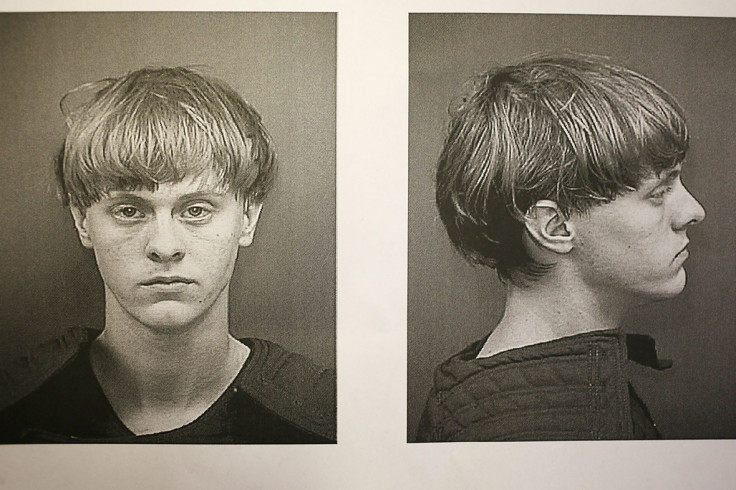 Accused Charleston shooter Dylann Roof has allegedly penned a note from jail to a serial killer fan saying he is "doing fine" but would like more books to read.
The handwritten letter, scrawled in pencil and signed by Roof, surfaced in an online auction site for $1,000 (£639.86), according to Radar Online. The original note to Roof was sent by Andrew Dodge of Burlington, Washington.
"My health and spirit are doing fine," Roof allegedly wrote. "Thanks for writing me, I appreciate your letter. It is nice to receive mail in jail. Most people probably would be too scared to send me a letter."
In his response, Roof decline's Dodge's offer of money, but requests a book instead. "To be honest, I don't think I need 30 dollars right now. I'd rather you send me a book. But it has to be from the publisher. If you think you could do this for me, just tell me in your reply, and then I can tell you the name of the book I want when I write you again."
Dodge told the Daily News that his fascination with serial killers led him to send Roof the letter the day he was captured, 18 June. "I wanted to be one of the first ones to do it," the 25-year-old said. "It's just the case is so hot right now. i just wanted to reach out before there was any types of gag order or anything on him."
According to the Daily News, Dodge claims he is not a white supremacist nor a fan of Roof. "Obviously it's a tragic situation," the owner of True Crime Auction House said. "I have African-American friends. I'm not in any way whatsoever saying what he did is fine or acceptable."
He added, "I'm not at all out to like glamorise him or anything like that. But at the end of the day, books and movies are made about people all the time."
Roof is allegedly not the first the serial killer aficionado has reached out to. Dodge has exchanged correspondence with serial murderer George Banks and William Devin Howell, the New Britain serial killer in Connecticut.
Eric Watson, the Charleston County Sheriff's Office spokesman, told the Daily News that authorities could not confirm the letter's authenticity. Watson added that a judge issued a temporary gag order prohibiting officials from talking about the case.
Roof is accused of shooting and killing nine churchgoers at a historically black church in Charleston, South Carolina.