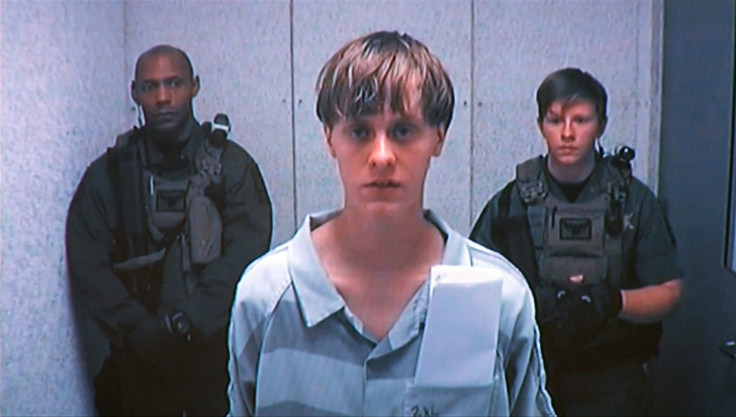 A friend of the accused Charleston massacre gunman Dylann Roof has been arrested. Joseph Meek, 21, was held by FBI agents on Thursday (17 September) over alleged false statements in relation to the attack on a South Carolina church on 17 June.
Meek reportedly gave the 21-year-old murder suspect a place to stay at a mobile home in the weeks before the shooting at the Emanuel African Methodist Episcopal church in Charleston that left nine black churchgoers dead.
A month ago he was told he was under federal investigation for lying to the FBI and failing to report a crime. An official confirmed the arrest to The Associated Press, but did not say give details of the charges Meek faces.
He previously described how in a drunken state Roof complained that "blacks were taking over the world" and that "someone needed to do something about it for the white race". Meek is also reported to have told investigators that Roof had used birthday money from his parents to buy a .45-calibre Glock handgun. He took the gun from Roof on the night of his racist rant, but returned to him once Roof had sobered up.
"Whenever he said he wanted to do something crazy, I just blew it off and didn't pay attention because he was intoxicated," he said of his high school friend.
Meek's girlfriend, Lindsey Fry, told the AP that Meek has a good job repairing air conditioners and fears going to jail. Fry, 19, said she and one of Meek's brothers testified before a grand jury, answering questions about what Meek did after finding out about the shootings and about Roof's activities.
"He's really worried," Fry said, of Meek. "He knows he didn't do anything wrong. But when you're innocent, it can be really hard to prove you are innocent."
Meek's arrest comes a day after Roof's lawyer said his client is willing to plead guilty to state murder charges if he would be spared a death sentence. Attorney Bill McGuire said a guilty plea by Roof in exchange for a sentence of life in prison without parole would spare the victims' families and survivors the ordeal of reliving the shootings during a trial. Prosecutors declined to comment on whether they would accept a guilty plea from Roof.
The comments were made during a hearing in Charleston on Wednesday (16 September) over whether the judge will release emergency telephone calls and police reports about the 17 June shooting.
Judge JC Nicholson did not rule on Wednesday, but indicated he would release some materials. Assistant US Attorney Nathan Williams, who is prosecuting Roof in federal court, argued for keeping the documents sealed due to their graphic nature. He said the families and survivors were "re-traumatised" every time they heard or read about the killings.
As well as state murder charges, Roof faces 33 federal hate crime and weapons charges. State officials, including Gov. Nikki R. Haley, have said emphatically that the case warranted the death penalty.
The governor of South Carolina, Nikki Haley, has also called for Roof to receive the death penalty for the attacks which are being considered as a possible "act of domestic terrorism". The massacre was the deadliest attack on a place of worship in the US in 24 years.