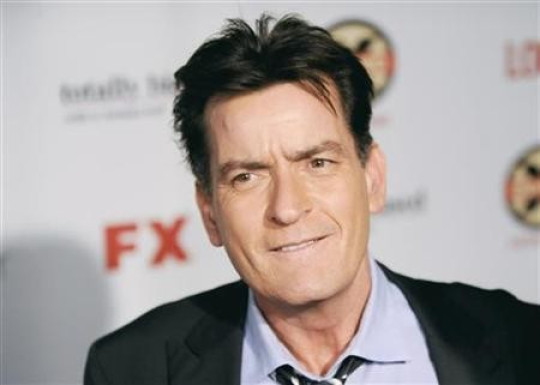 Rihanna is the latest celebrity to fall foul of Charlie Sheen.
The Anger Management star, who is renowned for his public Twitter spats, unleashed his venom on the Bajan beauty when she declined his request to meet her.
Sheen and his fiancée Brett Rossi were dining at Giorgio Baldi restaurant in Santa Monica to celebrate the porn star's birthday, when they found out that Rihanna was eating nearby.
After his request to meet the singer was declined, the 48-year-old star launched into a tirade of abuse on Twitter calling her a "village idiot."
"Well, the word we received back was that there were too many paps outside and it just wasn't possible at this time." he tweeted.
so, I took my gal out to dinner last night with her best friends for her Bday. we heard Rihanna was present … http://t.co/Bv1BRa2RTo

— Charlie Sheen (@charliesheen) May 22, 2014
"Nice impression you left behind, Bday or not. Sorry we're not KOOL enough to warrant a blessing from the Princess. (or in this case the Village idiot)'
With Rihanna showing off her bold, bubble gum pink hair, the actor went on to lambast the pop star for her appearance.
"Oh and Rihanna, Halloween isn't for a while. But good on you for testing out your costume in public. It's close; a more muted pink might be the answer, as in: none," Sheen wrote.
"See ya on the way down, (we always do) and actually, it was a pleasure NOT meeting you. Clearly we have NOTHING in common when it comes to respect for those who've gone before you. I'm guessing you needed those precious 84 seconds to situate that bad wig before you left the restaurant."
The former Two And A Half Men star used the opportunity to give the singer some advice about achieving longevity in the business.
"I ALWAYS take the time. THIS is why I'm in this thing 31 awesome years. Good will and common courtesy, carefully established over time to exist radically in concert with a code of gratitude!"
He signed off with the stern message: "If ya don't wanna get bothered DONT LEAVE YOUR HOUSE! And if this "Prison of Fame" is soooooooo unnerving and difficult, then QUIT, junior!"
Sheen has previously lashed out on the social media site at his ex wife Denise Richards and Ashton Kutcher who replaced him in the hit US comedy series Two And A Half Men.
Rihanna has not responded to Sheen's comments.