As the £100m Netflix series The Crown has swept the world with its depiction of Queen Elizabeth II's early reign in its first season, it appears television producers have caught the regal-drama bug.
The British Royal family will be portrayed on screen yet again in King Charles III, a one-off drama for BBC2. It is written by Doctor Foster creator Mike Bartlett and is based on his Olivier Award-winning play of the same name. It envisions an alternate future where Prince Charles ascends to the throne following The Queen's death.
Unlike the first season of The Crown so far, Catherine, the Duchess of Cambridge will be featured in this royal drama and will be played by Peaky Blinders actress Charlotte Riley.
The lead role of King Charles will be played by Tim Pigott-Smith as Oliver Chris stars as Prince William, and Richard Goulding plays Prince Harry. Margot Leicester stars as Camilla, Duchess of Cornwall and Adam James of Doctor Foster takes on the role as the "future" Prime Minister Tristram Evans.
Harry's new girlfriend, Suits actress Meghan Markle, does not feature in the script – despite the Prince confirming the seriousness of their five-month romance in an official statement via Kensington Palace on Tuesday (8 November); denouncing the media over harassing the actress and her family.
King Charles III is written in blank verse as the fictional story sees the new monarch refuse to sign a controversial bill into law. This results in political chaos, a constitutional crisis, rioting on the streets and a tank sat outside Buckingham Palace. Charles wrestles with his own identity as the drama explored the implications for him and the rest of the royal family, along with his subjects.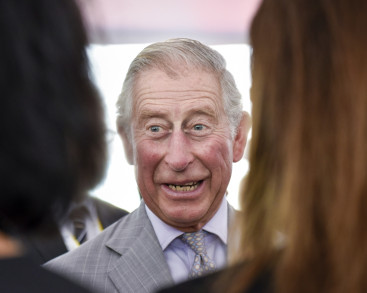 Riley – who has been married to Hollywood actor Tom Hardy since 2014 – has revealed that she is "really excited" to join the cast and looks forward to playing Middleton in the poignant drama. The 34-year-old said: "I'm really excited to come on board King Charles III, Mike Bartlett and Rupert Goold are two brilliant creatives.
"It's such a unique project, to be both modern and rich in verse and to play someone who is real but yet totally re-imagined for this story, is an exciting prospect for an actor.
"Kate Middleton is a really interesting woman, particularly within the context of this play, and it is a challenge I am really looking forward to."
Pigott-Smith also commented on the exciting new show, claiming that it was important that the play, which also transferred to Broadway, was filmed.
He said: "It is a drama about us, now, who we are, and the relevance of our monarchy. Television gives it an important democratic voice."