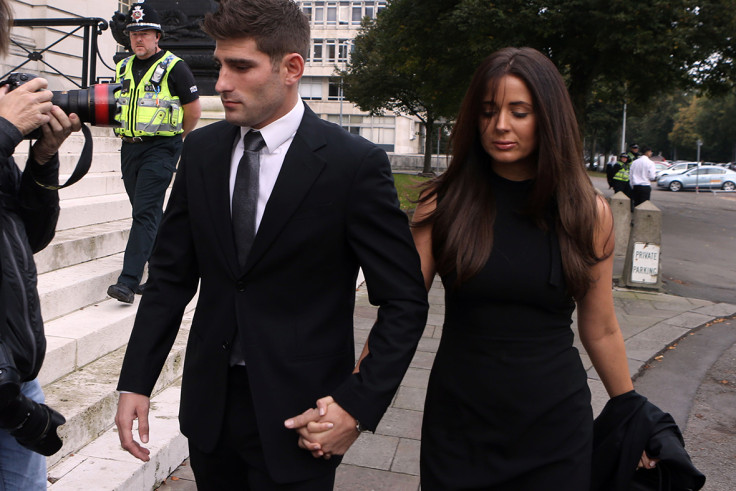 The woman who accused Chesterfield striker Ched Evans of rape was so drunk the night of the alleged attack she "didn't really know what on earth was happening", Cardiff Crown Court has heard.
The 27-year-old League Two footballer appeared at the court on Tuesday (4 October) for the first day of his retrial over allegations he attacked the complainant at a Premier Inn hotel near Rhyl, north Wales in May 2011.
Arriving with girlfriend Natasha Massey, the former Manchester City and Sheffield United forward was previously found guilty of rape but this conviction was later quashed by the Court of Appeal.
A jury of seven women and five men were told Evans had been out drinking with friend Clayton McDonald the night of the alleged attack. Simon Medland QC, prosecuting, said McDonald phoned Evans from a taxi in the early hours of the following morning to tell him: "I've got a girl."
Evans is said to have arrived at the hotel room about 15 minutes later before the the pair separately had sex with the victim, it is alleged.
McDonald was later acquitted of raping the woman, while Evans was convicted of the offence, following the trial at Caernarfon Crown Court.
Addressing the court, Medland said the complainant could not have consented to having sex with Evans. "There is no room for concluding that the complainant could have consented to sex with this defendant," Mr Medland told the jury.
"We submit that the evidence will show that the only connection between Ched Evans and the complainant was once he was in the hotel room with the 'girl' which McDonald had 'got'.
"Did he have sex with her whilst McDonald was himself present? Was this what the complainant was consenting to? We submit that she was that intoxicated that she didn't really know what on earth was happening....and that she was raped by this young footballer, not that she had consensual sex with him. Sex without consent is rape.
"Having finished in that room, Ched Evans, then left surreptitiously by the fire exit door, not going back through the reception of the hotel."
The woman claims her drink had been spiked and was seen to be "very unsteady on her feet" in CCTV footage. Before she got into the taxi, Medland said, she appeared "really drunk" and could not speak properly.
Evans denies one charge of rape and the trial continues.