Guardiola Thinks Chelsea Are Favourites, Di Matteo Insists it's Still 50:50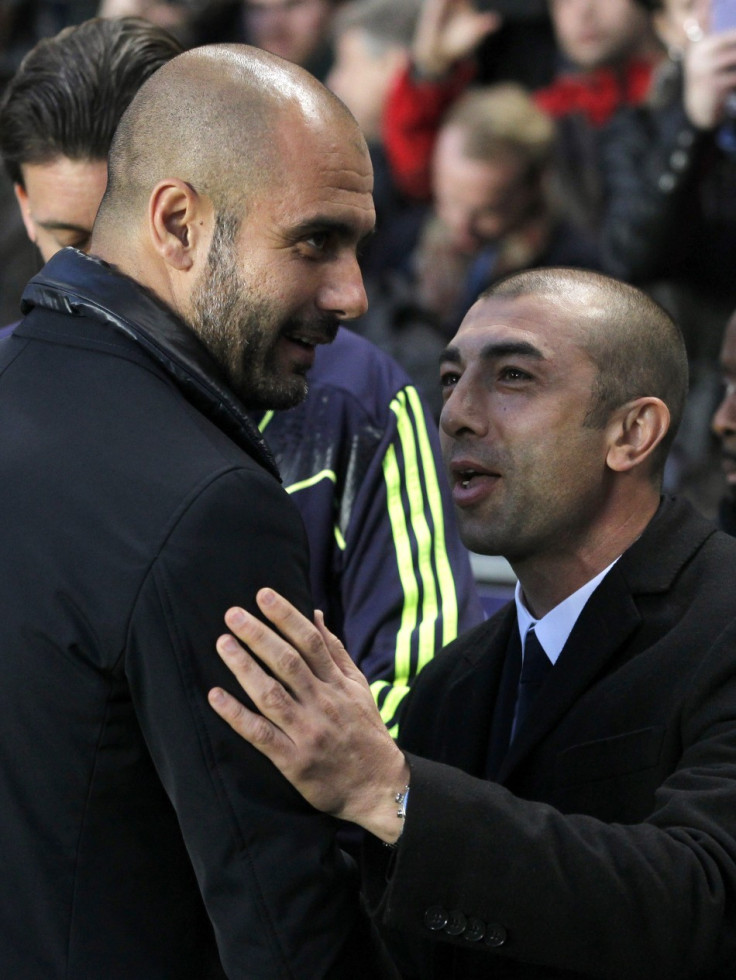 Barcelona boss Pep Guardiola has said Chelsea are now favourites to progress to thefinal of the Champions League after watching his team lose 0-1 in the first leg of the semi-final at Stamford Bridge. The only goal of the game, scored by Didier Drogba, proved to be the difference between the sides and Guardiola believes it will be difficult for Barcelona if the Blues play a defensive game in the return leg.
"Chelsea are favourites now, but we have 90 minutes ahead and we must try to do our best to go through. Our goal is to create 24 chances like we did today and score a goal. We must take same more risks, but I have told my players that if we created chances today, we will do it at Camp Nou as well. We know that in order to score, we need to create a lot of chances," Goal.com quoted the Spaniard as saying.
The Catalan manager thinks Chelsea will continue to play with 10 players in their area but refused to criticise the Blues' cautious tactics and said that 1-0 was a fair result.
"I am not the one to say how they must play. They are the ones who must know how they have to play, but we cannot forget the fact that they have reached the Champions League semi-finals six times in the last nine years," Guardiola said
"Unfair result? No, this is football. You do not win with possession of the ball; if that were the case then we would win all the time. You have to score goals and that is what we will try to do in the return leg," he added.
Meanwhile, Chelsea interim manager Roberto Di Matteo believes there is still plenty of work to be done to gain a ticket to the final at Munich, despite taking a precious 1-0 lead after the first leg.
"It's a great result for us. You know when you play Barcelona, you're going to have to do a lot of defending. I watched them against all the other teams - Milan, Real Madrid - and they're going to have a lot of possession. You just have to try to limit their threat and then just be clinical when you get your chances," the manager was quoted as saying.
"It's still 50-50. There's still the second leg to play away from home and, as we all know, it's going to be a difficult one. I think this group of players have shown again tonight their determination, their courage, and to play against the top team in the world, they showed what quality there is in this team," Di Matteo added.
The return leg will take place at the Camp Nou on Tuesday but before that both teams have two massive games on Saturday. Chelsea will visit Arsenal, as both London clubs, along with Tottenham and Newcastle, battle for a top four spot in the league and Barcelona host Real Madrid in the El Clasico, tipped to be the decider in the La Liga title race.
© Copyright IBTimes 2023. All rights reserved.