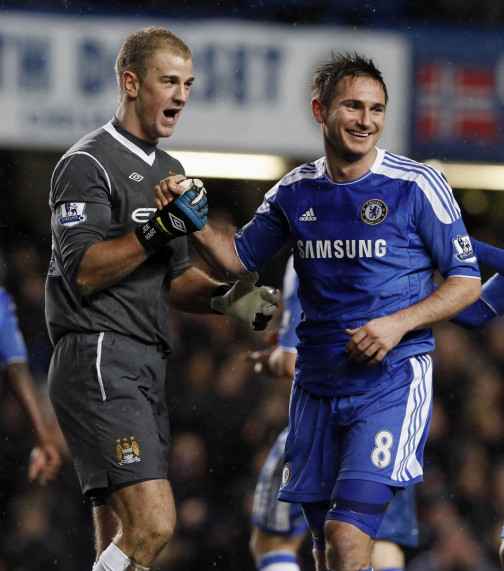 Chelsea hero Frank Lampard has reiterated his desire to remain at Chelsea despite reports linking him with a move to Real Madrid to reunite with manager Jose Mourinho.
The 33-year-old has struggled to hold down a permanent place in the starting line-up this season and has found himself coming off the bench in Chelsea's recent wins over Valencia last week and Manchester City on Monday.
Club manager Andre Villas-Boas prefers the agile Raul Meireles to the Englishman and it has led to reports stating the veteran is past it. However, against Man City on Monday, the England international came off the bench with an impressive performance, making intelligent runs across the park.
It was his slick pass to Daniel Sturridge which eventually led to Joleon Lescott handling the ball in the box. Despite Juan Mata being the designated spot-kick taker, Lampard, who has been Chelsea's prime penalty expert for the most part of a decade, took charge.
With typical mental strength, he slammed it violently into the net to give Chelsea a morale-boosting win over the league leaders. His celebration, wherein he passionately held the Chelsea badge on his shirt, made it clear in no uncertain terms what his intentions were.
"I want to play and I'm at my best when I play, but now I'm in and out. I'm 33 - I understand that - but I want to keep playing regularly because I know I've got a lot to give," Lampard told Sky Sports. "I've got 18 months left and I'll be here that long, and I'll keep trying my hardest."
Stepping up for the penalty required huge mental strength as he had missed his two previous attempts from the spot in previous games.
"I missed a penalty a few weeks ago and it's always tough, especially having taken so many against (Joe) Hart with England," he added. "He's the last person I want to take a penalty against but thankfully it went in.
"You've got to be big enough to take them. You can stand on the side and let somebody else take it but you've got to do it for the team and I was relieved when it hit the back of the net.
"We needed a win to stay in the race because 10 points was a huge gap and luckily we've closed that. Man City have been the top team in the league this year, some of the football they've played - even tonight - has been brilliant and we needed to win really.
"The way they started was sharp but once we got into the game I had a feeling it was going to be our night."