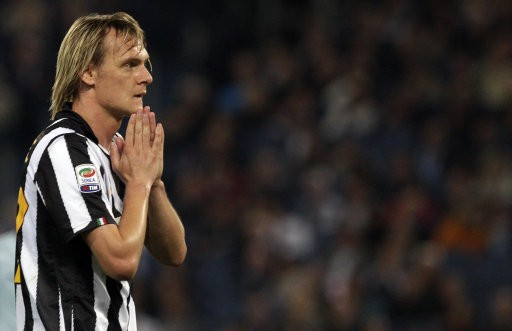 Juventus winger Milos Krasic is considering the possibility of a move away from the Serie A club in the summer, according to his agent, with Valado Borozan confirming that Chelsea are one of the clubs that are interested in the star.
Krasic was the subject of a bidding war as he decided on a deal with Juventus in 2010, but the 27 year old has failed to become a regular in the side's line up since the move.
Chelsea have been connected to Krasic on numerous occasions, but he stayed at Juventus in the end to continue to fight for his place on the side.
And Borozan has confirmed as much to Italian press, admitting that Chelsea are a possible suitor for Krasic if things don't work out with the current Serie A table leaders.
"In this moment Milos wants to stay at Juventus," Borozan told calciomercato.it. "There is no need to work on Krasic - we have to wait and see what will happen.
"Milos is appreciated everywhere, so we'll see which side will come forward between now and June.
"He is under contract and so far there has not been a need to start talking to other clubs. Chelsea? They are interested in the player and they are one of the clubs he likes."
Chelsea are currently 14 points off first-placed Manchester City in the Premier League title race.
Roman Abramovich's high expectations of the club will no doubt see Andre Villas-Boas come under fire if he doesn't bring home a trophy this season.
In fact, the manager was under fire this week after Chelsea went from being 3-0 up against Manchester United to drawing with their Premier League rivals 3-3. Talks with Abramovich took place after the match, but a spokesman for the club said: "Roman likes to get down to Cobham and watch training whenever he can.
"He was able to visit on Saturday and he and Andre had a good chat after the training session, which is normal."
And Krasic could be one of many big name buys that the club makes in the summer, in the hopes of challenging the Manchester clubs next season to be on top once more.
Milos Krasic highlights 2010-2011: