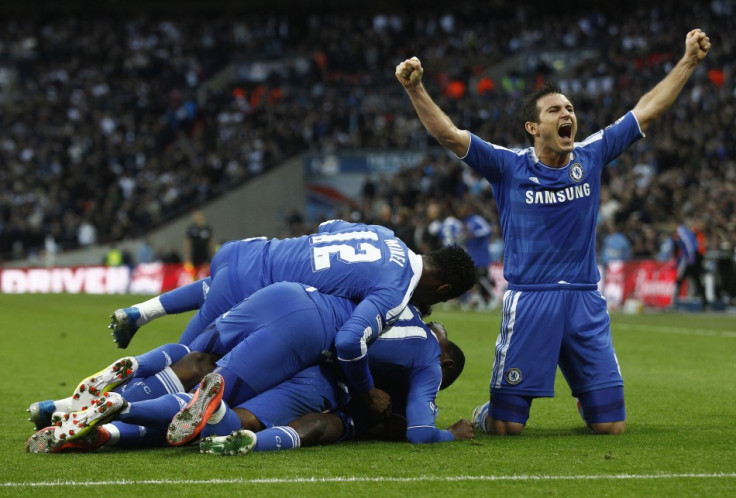 Chelsea midfielder Frank Lampard insists the Blues do not fear Barcelona and have devised a plan to the European champions, as the two clubs ready themselves to face each other in the first leg of the semi-finals of the Champions League, at Stamford Bridge on Wednesday.
The London club has been written off by both pundits and bookies against a Catalan side who head into the game as clear favourites to progress to the final in Munich's Allianz Arena. However, Lampard says Chelsea are comfortable with the "underdogs" tag.
"You can talk yourself into fear by speaking too much about Barca. We are under no illusions about the task but I like the tag of underdogs. That's always refreshing when you have belief in yourself. We'll have to be at our best because we are taking on the best," The Sun quoted the 33 year old as saying.
"We have a plan to beat Barcelona and we pride ourselves on the fact Messi has never scored against us. We respect that Barcelona have been the dominant team of the last few years but on our day we can be a match for anyone," the Englishman added.
Lampard feels Chelsea need to be completely focused if they are to get past the champions and said countering Barcelona's fluent passing game with high-tempo pressing throughout the match would be vital.
"It [pressing game] is imperative. It's down to us to organise the game, there's no way you can be passive. We have to try and close down space. We'll have our game plan. Any team at this stage will have a plan on how to win games. We're under no illusions," Goal.com quoted Lampard as saying.
"You must stay very focused with players with the ability of Xavi, Messi, Iniesta - I could go through the whole team. We have to press in all areas of the pitch," he added.
Another important point the Blues' talisman touched on was that of keeping all 11 players on the pitch for the full 90 minutes of both legs. In each of Chelsea's last three defeats to Barcelona, they have had players sent off.
"Discipline is a huge factor at this level. I know from experience to play a man down against Barca is very tough. We have to play to our strengths to try and win, and keeping 11 players on the pitch is absolutely crucial," Lampard opined.