Nigerians fleeing attacks at the hands of Boko Haram insurgents are currently finding shelter in Chibok – ironically the village where the Muslim extremist group kidnapped close to 300 girls in 2014.
The village, in the restive Borno state in northeastern Nigeria, gained notoriety when militants kidnapped hundreds of schoolgirls – some of whom later escaped or were released following negotiations.
Although the abduction of the so-called 'Chibok girls' was not the first mass-kidnapping carried out by Boko Haram, it attracted international outrage. It led to the creation of the global Twitter hashtag movement #BringBackOurGirls, fronted by then U.S. First Lady Michelle Obama, which shone a light on a deadly but previously under-reported insurgency.
Tensions are now running high again in the remote village, as residents fear Boko Haram might attack them again due to the influx of people fleeing from attacks at other locations.
"To us here in Chibok, we are living in fear because that it is the only place that has been like a roadblock to them coming to us. Some people that cannot withstand the situation are even moving to [Borno's capital] Maiduguri, which is safe for them," a Chibok resident told The Cable news site.
The disclosure came as suspected Boko Haram militants killed at least 21 people during raids at two villages, spraying people with bullets and burning down houses. Survivors fled to nearby Chibok.
The Nigerian army has not confirmed that the two attacks have taken place.
Boko Haram insurgency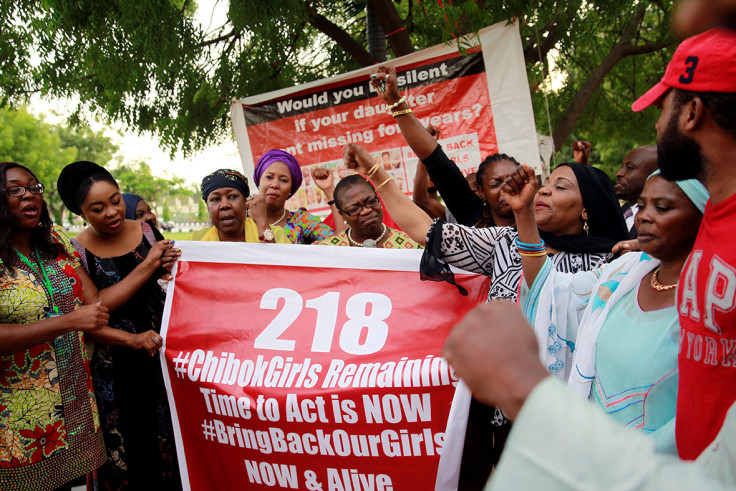 Boko Haram opposes Western influence in Nigeria and aims to impose its version of Sharia law throughout occupied territories. The Islamist outfit, affiliated to Isis, is blamed for the death of at least 20,000 people in Nigeria and neighbouring areas due to the insurgency, which began in 2009.
The conflict has also displaced at least 2.1 million people. Of these, 501,000 were displaced last year, according to the 2017 Global Report on Internal Displacement.
Boko Haram used to control territories the size of Belgium. However, Nigeria's ongoing military operation, Lafiya Dole, and a regional offensive – consisting of 8,700 troops from Nigeria, Niger, Chad, Cameroon and Benin – have scored some successes, with soldiers recapturing key territories and releasing thousands of civilians held captive by the group.
Nigerian President Muhammadu Buhari, currently on medical leave in the UK, has often claimed the fight against the insurgents was over. However, the group still carries out attacks in northeastern Nigeria and Cameroon.
Analysts have pointed out that a military offensive alone is not enough to defeat the insurgents, who exploit factors such as poverty and disenfranchisement in the north to recruit new fighters.
Furthermore, Buhari's prolonged absence and mystery surrounding his health could further destabilise the country, which is also having to deal with a crippled economy and oil-related militancy in the south.
"Boko Haram will continue to attack soft and hard military targets irrespective of who is in charge as long as they continue to retain the extreme ideology and have capacity to launch attacks," security analyst and counter-terrorism expert David Otto told IBTimes UK.
"If [acting president] Vice President Yemi Osinbajo practically shows that his administration has the commitment and genuine will to address the fundamental push and pull factors and the enabling environment that allows insurgency to survive, then he may have some success," he added.
---
Nigeria up close: Check out our Flipboard magazine
---