At least 31.1 million people became internally displaced last year due to conflicts and natural disasters, at a rate of one person every second, a new report has revealed. Sub-Saharan Africa and Asia were the areas worst affected, according to the 2017 Global Report on Internal Displacement by the Internal Displacement Monitoring Centre (IDMC) and the Norwegian Refugee Council (NRC).
"In 2016, one person every second was forced to flee their home inside their own country. Internally displaced people [around 40 million] now outnumber refugees [around 21 million] by two to one. It is urgent to put internal displacement back on the global agenda," said Jan Egeland, secretary general of the NRC.
In Sub-Saharan Africa, one of the countries worst affected was the Democratic Republic of Congo (DRC), which saw a rise in violence and instability due to the postponement of presidential elections last year. This, coupled with clashes in the provinces of North Kivu, South Kivu and Kasa, caused the displacement of at least 922,000.
The number of displacements in DRC was higher than the one is Syria (824,000 people), which has been ravaged by a civil war since 2011.
At least two million people are internally displaced in South Sudan, where a civil war erupted in 2013, causing the death of thousands. At least 281,000 displacements were caused last year, according to the report.
Nigeria saw also the displacement of 501,000 people due to the Boko Haram insurgency in the country's north-east.
Fighting in Syria, Iraq and Yemen caused nearly two million new displacements due to conflicts and violence at the hands of militant groups such as the Isis.
Natural disasters caused the displacement of 24.2 million, with Asia being the worst affected.
At least 7,434,000 people were interally displaced in China. "The country experienced its wettest year on record in 2016, with 16% more rainfall than the long-term average. The Yangtze river basin flood season was the most significant since 1999," said the report.
There were 5.9 million new displacements in the Philippines, which was hit by typhoons Nock-ten and Haima.
Another 2.4 million people were displaced in India. Most of them were displaced due to floods caused by the monsoon in Bihar state.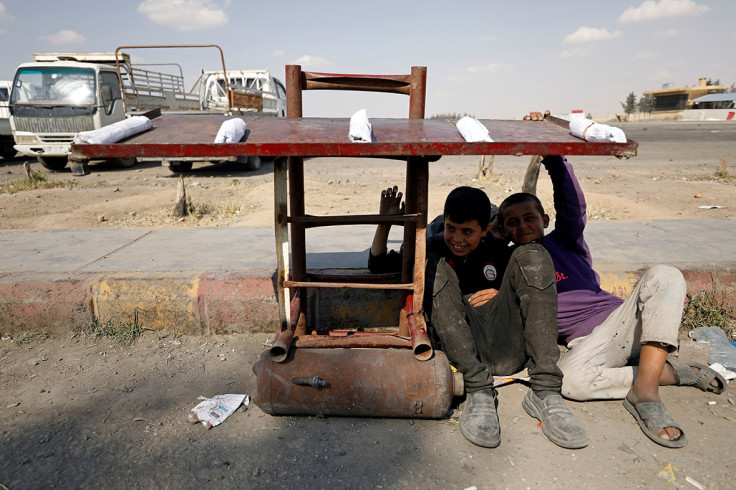 IDMC warned that people who flee their countries are at risk of becoming internally displaced if their return to their homelands.
"Six of the 10 countries that produced the most refugees in 2015 – Afghanistan, Colombia, the Democratic Republic of Congo, South Sudan, Sudan and Syria – were also among the 10 with the largest number of IDPs," the organisation said.
"Refugees returning to their countries of origin risk becoming internally displaced again if their return is premature, involuntary or unprepared, and if they return to conditions of insecurity and inadequate livelihoods. This was the case in Afghanistan and Somalia in 2016."
The report called on states to respect the UN Guiding Principles on Internal Displacement.
"We call for a conscious, deliberate and sustained political effort to improve the many millions of lives blighted by internal displacement and preventing others from suffering the same upheaval and trauma in the future. States need to recognise that national sovereignty implies responsibility, both 'as a national obligation and a global imperative'," it said.