Over 900 chickens escaped from a lorry after it overturned on a motorway in China.
The truck was carrying around 3,000 fowls as it swerved across the road, as the driver tried to brake in thick fog. As the truck lay on its side, the chickens made a bid for freedom across the busy thoroughfare, and on to the surrounding grassland.
The escapees forced police to close the section of the motorway in the southwestern Guizhou province, as they tried to gather them back into their coops.
However, this unusual incident is far from the strangest animal escape. In the 1930s, a colony of monkeys fled from Frank Buck's Jungle Camp Animal Park near Amityville, Long Island.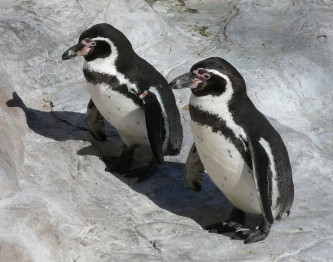 Around 172 primates escaped when an employee left their enclosure open all night - leaving them to enter people's houses and take residence in the nearby town.
Another great escape incident took place in July 2011, when a baboon broke out of the Six Flags Great Adventure amusement park in Jackson, New Jersey. It was spotted in back gardens and the porches of local residents before being captured on a farm six miles away.
In 2010, a hippopotamus called Nikica escaped her pen and decided to occupy the a small area of water in the nearby village of Plavnica. She was only moved once the floodwaters receded.
Last year, a Humboldt penguin roamed the streets of Tokyo for three months, after it escaped from the Sea Park Life aquarium. It was spotted swimming around Tokyo bay and was recaptured in a good condition - despite living the city life for several weeks.
A 450-pound lioness called Nala escaped from Kissimmee's JungleLand Zoo in Florida. It prowled the surrounding area - which is near Walt Disney World - much to the amusement and terror of the local residents. She was found by a search team and returned to her enclosure, after a few days on the run.