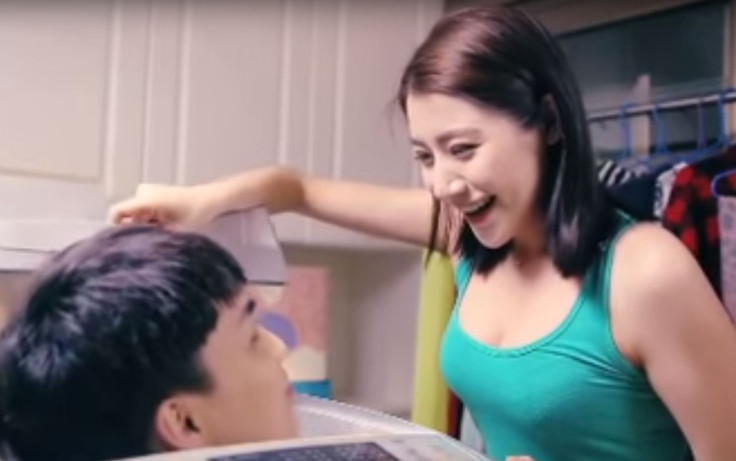 A controversial TV advert for a laundry detergent in China has been attacked as racist after showing a black man being "cleaned" to become Chinese. The commercial, for Qiaobi detergent, begins with a Chinese woman putting dirty laundry into the washing machine.
The camera then pans to a paint-splattered black man who wolf-whistles and winks at the woman. Signalling for him to come over, the woman beckons him in for a kiss before putting a detergent capsule in his mouth.
She then puts him head-first into the washing machine and turns it on. Sitting on the machine while it spins, she finally opens the lid smiling to find the black man has turned into a light-skinned man.
The advert, which was reportedly shown in cinemas across China when it was aired a month ago, has been viewed more than two million times after being uploaded to YouTube. It has reignited long-standing concerns over racism in China.
One Shanghai-based blog – the Shanghaiist – said many Chinese people held "a well-established phobia of dark skin" which it claimed "breeds racist attitudes towards people of African descent, who are viewed by some as 'dirty' simply because of their skin tone".
It pointed to another recent controversy in which promotional posters for the latest Star Wars film were edited in China to exclude the London-born black actor John Boyega.
The owner of Qiaobi said he didn't realise the advert could be seen as racist until it was pointed out to him. "I don't know much about the advertisement," owner Mr Xia told the BBC. "To be honest, I didn't really pay that much attention to the advertisement."
Controversial skin whitening products have been long been prevalent not just in China but across Asia, particularly targeting women. Lighter skin is associated in some circles with higher social status.
But anti-racism efforts in China, which has a very low black population, have seen the state media recently try to improve the image of people from African countries. This includes promoting stories about warming China-Africa relations and welcoming African people who have learned Chinese, the BBC reported.
While controversy over the Qiaobi advert has been widely condemned by Western audiences on social media, Britain and the US have its own long history of racist adverts for soap.
One infamous poster from the early 19th Century for Pear's soap shows a black boy being given a bath, with his body emerging white. Another US advert for Pearline, from the late 1800s, shows a black mother "cleaning" her son white.
More recently, an estate agent in London pulled one of its advertising campaigns and apologised following accusations of racism. The poster for Notting Hill-based firm Strutt and Parker, created in 2014, featured a black male stood next to the slogan "Some Notting Hill folk were born to dance" alongside a smartly dressed white man dressed in a suit, with the caption "Others to sell flats".
And the Qiaobi commercial that has prompted the outrage is almost a carbon copy of one that aired in Italy for another detergent a few years ago. The ad showed a thin, white Italian man turn into a muscly black man after being put in a washing machine by a woman. The slogan "Coloured is Better" then appeared alongside.