Groups of rival Donald Trump demonstrators clashed at a rally in Anaheim, California. Several people were arrested and riot police were on standby. Trump supporters carrying Bibles allegedly shouted racist and homophobic slurs at the anti-Trump demonstrators, some of whom marched in a circle around the pro-Trump campaigners.
At least seven people were arrested as the rally went ahead on Wednesday (25 May), the LA Times reported, with bins set on fire, rocks thrown at police and scuffles breaking out between the groups of demonstrators. A group of five Trump supporters were said to have been led away by police "in the interests of public safety", after repeatedly chanting racist and anti-gay slogans at demonstrators.
Police on horseback were circling the convention centre, which did not entirely avoid the protests as two people were removed from inside the rally – although there was no official reason given for why that happened.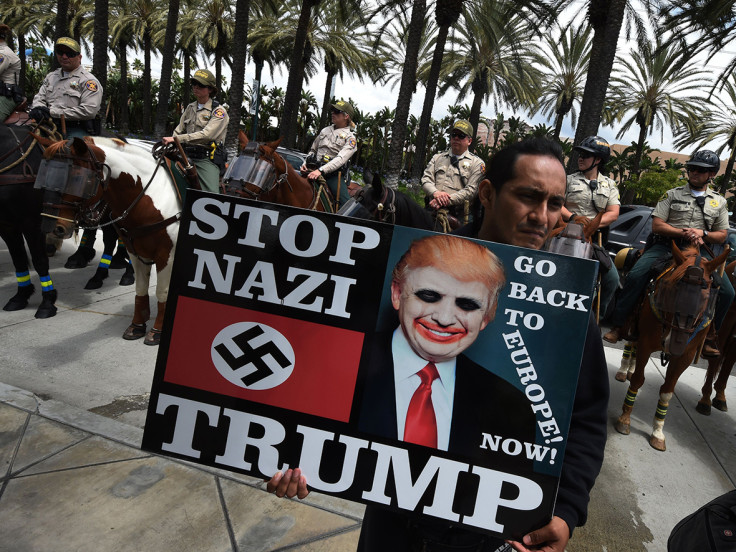 Inside, Trump, who has seen protesters stand both inside and outside his rallies in the past, told his supporters "the safest place to be in our country is a Trump rally".
Two pro-Trump demonstrators stationed by the entrance to the rally were holding placards denouncing Islam and abortion, while one Trump supporter told a crowd of his critics "you're all going to burn in hell".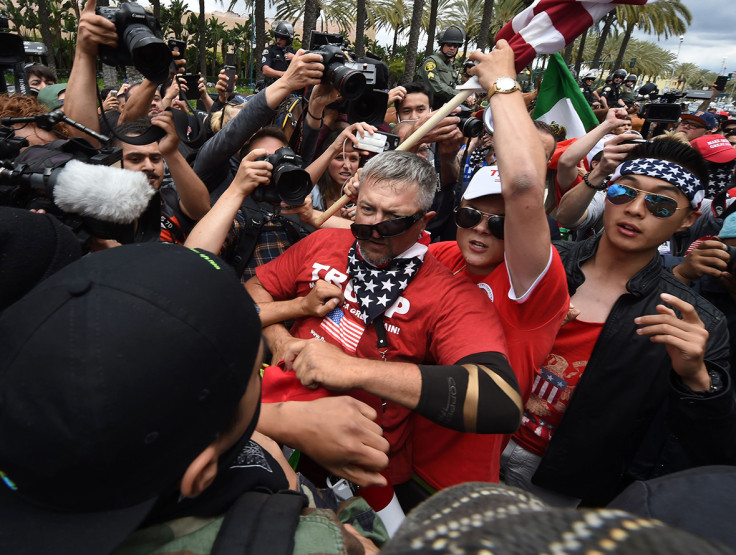 The riot police were on standby ahead of the event, although police insisted that had been planned weeks ago and was not in response to violence at a Trump rally in New Mexico on Tuesday (24 May). The New Mexico rally saw police and protesters clashing and tear gas fired at the crowds.