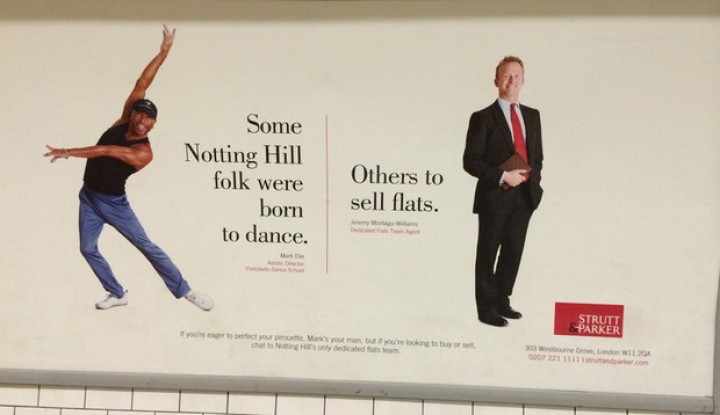 An estate agent in London has pulled one of its advertising campaigns and apologised following complaints it was racist.
The advert by the Notting Hill-based firm Strutt and Parker was displayed in in London's underground. The poster features a black male stood next to the slogan "Some Notting Hill folk were born to dance" alongside a smartly dressed white man dressed in a suit with the caption "Others to sell flats".
The advert was criticised as "utterly moronic" and racist and social media for apparently displaying a clear racial divide in the affluent area of West London.
Following the outrage over the advert, Strutt & Parker confirm they have pulled the and apologised for "any upset this may have caused to anyone who has been affected by this".
A spokesperson added: "We are aware that we have encountered some negative feedback with regards to one of our local advertising campaigns in Notting Hill.
"This campaign was developed to reflect the amazing diversity and vibrancy of the Notting Hill area.
"To produce the advertising campaign we worked with three popular and local entrepreneurs who appeared in the adverts: a dance teacher, a chef and an interior designer.
"They are all real people just like our estate agents who work in Notting Hill.
"Our campaign was well intended and represented the various talents of people working in Notting Hill.
"We are obviously very sensitive to the response of people and it was never our intention to offend anyone. As a result we immediately withdrew the campaign.