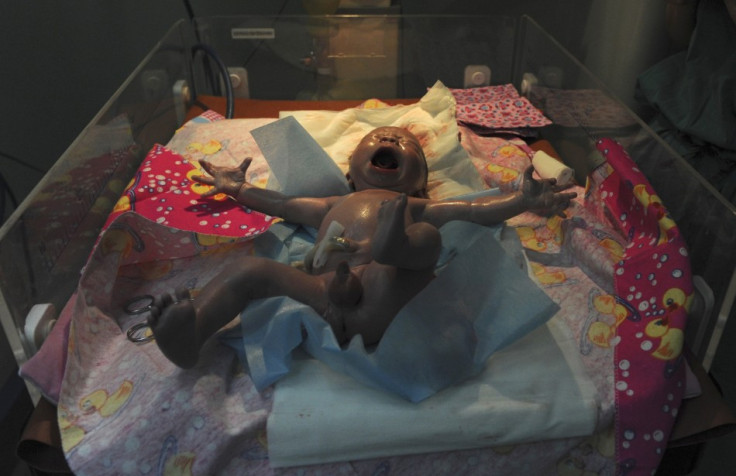 Police in China said they had broken up two major child trafficking gangs in a huge operation that led to the arrests of 802 suspects and release of 181 children.
Authorities arrested the suspects in a tightly coordinated crackdown involving 10,000 police and public security officers across 15 provinces including Hebei, Shandong, Henan, Sichuan and Yunnan.
Human trafficking has become big buisiness in China, with the government's strict one-child policy driving a thriving black market for babies.
Many of the children are boys because of a traditional preference for male heirs. Girls are often abducted to be labourers or wives.
Many trafficked babies are abducted but some are sold by poor families who cannot afford to care for a baby or do not want a girl.
The operation was launched after police suspicions were aroused when a large number of pregnant women from outside the area started visiting a health clinic in Hebei province.
State media reported how the clinic was being used to auction off babies for around 50,000 yuan (£5,000). Chinese TV showed a police officer in the bust trying to take a child away from a woman who had allegedly just bought it.
A doctor at the clinic was arrested as was one of the main suspects in the operation, Shao Zhongyuan. He was picked up in Pingyi county, Shandong province, the Public Security Bureau said.
He is alleged to have been part of a gang which trafficked more than 100 children.
In central China's Henan province, an inspection of a long-distance bus turned up four suspects who tried to sell four infants, the ministry said.
China started a campaign in 2009 to combat trafficking and freed 18,000 children and 34,000 women. The US State Department's 2011 Trafficking In Persons report said that while China had paid more attention to trafficking of women and children, "the government did not demonstrate evidence of significant efforts to address all forms of trafficking or effectively protect victims".
Chinese courts often hand down harsh punishments, including death sentences, to child traffickers.