Authorities in China have identified a 22-year-old man as a suspect behind the kindergarten bomb attack. The home-made device, which was planted outside the school in Jiangsu province on 15 June (Thursday), killed eight people and injured 65 others.
The assailant, identified only by the surname Xu, was also killed in the blast.
He reportedly had a neurological disorder and had scrawled words like "kill" and "death" on the walls of his home, investigators were cited as saying by the Chinese media on Friday. They also found material to make a homemade bomb at his apartment.
The blast struck at 4.50pm local time at the Chuangxin Kindergarten in the city of Fengxian, Jiangsu province, as parents were picking up their children at the end of the school day.
Police said they are treating the attack as a "criminal offense".
Xu, originally from the nearby Xuzhou city, had reportedly left school because of the neurological disorder.
According to China Central Television (CCTV), the attacker had been living in a rented apartment near the kindergarten.
"Self-made explosive device materials were found in his apartment, and on the walls in many places were handwritten words such as kill, death, destroy and terminate," it said.
Reuters noted that explosives are fairly easy to obtain in China as it is home to the world's largest mining and fireworks industries.
The Thursday's attack killed two people instantly, while six more people succumbed to injuries in hospital. Eight more people were reported to have been in a critical condition as of Thursday night, according to China's Xinhua news agency.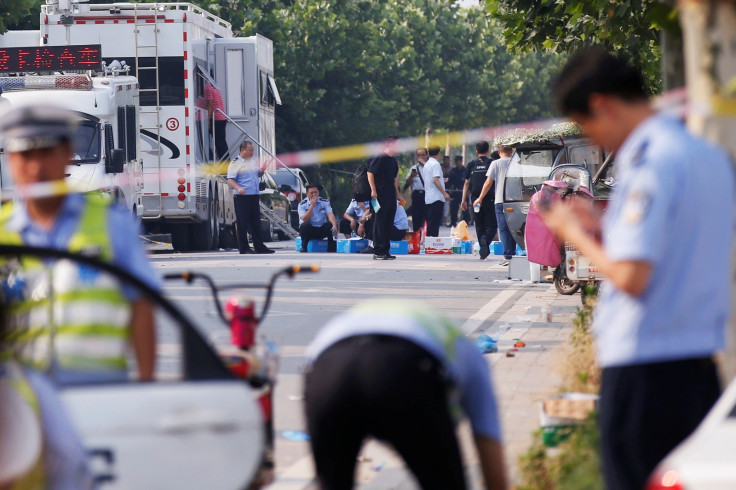 No pupils or staff of the kindergarten are reported to have been hurt in the explosion.
Images circulated on the social media showed victims bleeding and weeping, while some had their clothes torn off by the force of the blast. Several women and children were also pictured lying on the ground, others held crying children in their arms, in what appeared to be the immediate aftermath of the blast.
Following the blast, China's Ministry of Education has called on the education officials to strengthen security around schools in order to ensure the safety of students and teachers.