The dramatic leap of two lovers from a bridge in Wuhan, in central China, has been accidently captured by a photographer.
A photographer from the local Hubei Daily was taking snaps of air pollution blanketing the Wuhan Yangtze River Bridge, when his camera lens snatched a man's body falling amidst the thick smog.
The unnamed reporter didn't have the time to realise what tragic event he had just witnessed before a second body, this time of a woman leaped into the river from the same spot.
'To be honest I didn't even see the first person jump because I was concentrating so much on the camera settings and I didn't realise at first that I had snapped the man jumping to his death," the photographer was quoted as saying by the Daily Mail.
"It was only then after snapping the photograph that I heard someone shout that somebody had jumped. I heard him hit the water below and then seconds later a woman climbed onto the bridge and jumped as well."
"I was totally paralysed - there was no way I could get anywhere near her, I still had my hand on the camera and I tensed and shot off another few frames entirely by accident - but ended up photographing the woman as well" the photographer explained.
Police searched the Yangtze River waters but in vain.
The identity card of the man was found abandoned on the bridge, along with two black jackets, a woman's handbag, a bottle of drinks and a lighter.
According to the document the leaping lover was a 20-year-old named Liu. The identity of the woman, who police believes to be Liu's beloved, is yet unknown.
Authorities said the two have been officially reported as missing but admitted chances they survived the impact and the cold waters are very low.
Liu's uncle reportedly said his nephew was facing financial hardness that would have prevented him from settling down with his lover, he said he had never met nor known about.
The man also dismissed claims the boy had quarrelled with his parents just before putting an end to his life.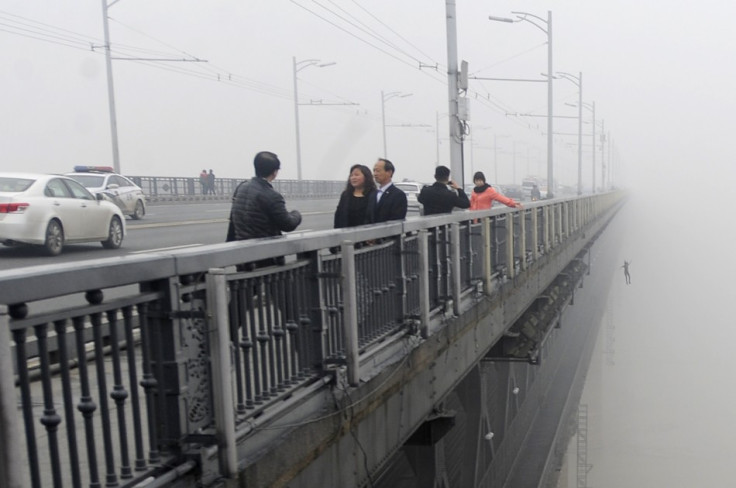 For confidential support call the Samaritans in the UK on 08457 90 90 90 or visit a local Samaritans branch, see www.samaritans.org for details.