China's military slams US for damaging trust with 'wrong' moves on Taiwan and South China Sea
US military activities have had a 'large, negative influence on bilateral military ties' with Beijing says top Chinese official.
A top Chinese general has accused the US of eroding trust with Beijing through "wrong" moves on various diplomatic sore points.
This includes US arms sales to Taiwan, the US Navy's South China Sea patrol, and the Pentagon's deployment of a missile defence system in South Korea.
The comments came from Fan Changlong, a vice chairman of China's powerful Central Military Commission, who spoke on Thursday (17 August) as he met US Joint Chiefs of Staff Chairman, Joseph Dunford.
According to China's defence ministry, Fan voiced his displeasure to Dunford over America's interference in affairs in the Asia-Pacific region, just as the mutual trust mechanisms between the two had started to improve.
"But wrong actions on the Taiwan issue, the United States deploying the THAAD system around China, US ships and aircraft's activities in the South China Sea, the United States close-in surveillance in the sea and air near China have had a large, negative influence on bilateral military ties and mutual trust," Reuters cited Fan as saying.
He referred to the Terminal High Altitude Area Defence (Thaad) anti-missile defence system that the US military has deployed near Seoul as a deterrent against the threats from North Korea.
The US began deploying Thaad in South Korea earlier in March despite China's objection. Beijing has long been strongly condemning the move, officially calling it a "wrong choice".
Tensions have been running high between the two countries since Donald Trump won the US presidential election in November. During his campaign days, Trump had threatened to brand China a currency manipulator, which he is yet to fulfil.
He had also angered China by speaking to Taiwanese President Tsai Ing-wen even before he took charge of the White House. China considers Taiwan as its wayward province and does not approve the island nation holding separate diplomatic relations with major countries.
Fan said Beijing was willing to work with Washington to improve bilateral ties and mutual trust through which the world's two largest economies can handle disputes and sensitive issues appropriately and peacefully.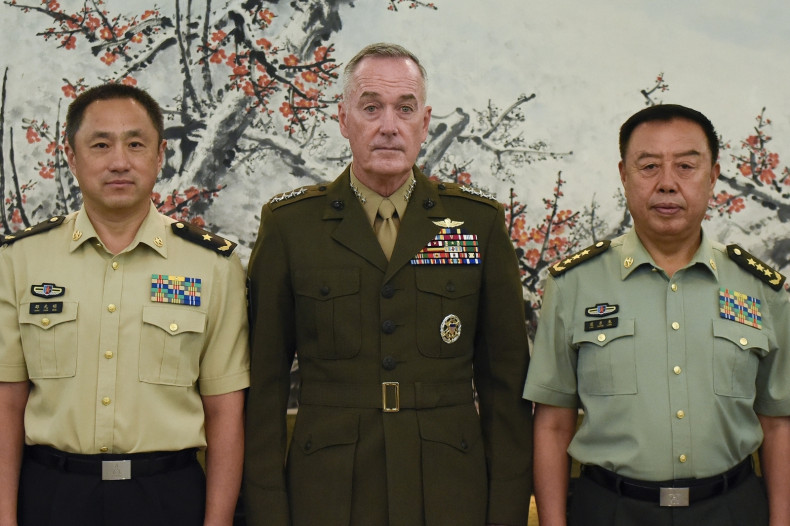 The US is reliant on Beijing to rein in the North Korea regime from further pursuing its nuclear and missile programs. It has been pressing China to exert more economic and diplomatic pressure on the isolated state to prevent escalation of tensions in the Korean peninsula.
However, the US Pacific Command is also keen on admonishing China as an aggressor in the hotly-contested South China Sea, where Beijing has built missile shelters, runway and a light house.
The US has been sailing destroyers in the waterway, much to the fury of Beijing because the US is not a claimant in the territorial dispute in the mineral-rich South China Sea. However, the US says its patrols are aimed at showing support for free passage to vessels in international waters.
Speaking to the media on Thursday (17 August), Dunford said the main purpose of his visit to China was to set up better and secure communication channels between the military chiefs of both the countries to quickly respond to any crisis in the region.