China: Ricky Gervais and Chen Kun among celebrities who condemn Yulin dog meat festival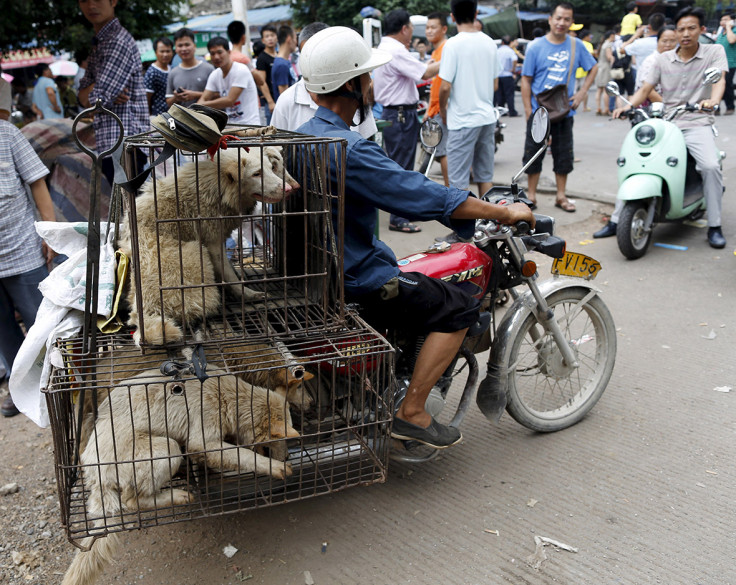 Celebrities and animals rights activists have condemned a dog eating festival that is under way in south-west China.
An estimated 10,000 animals will be slaughtered for their meat at the Lychee and Dog Meat Festival in Yulin, Guangxi Province, to mark the summer solstice.
Residents and dog meat vendors claim the animals are killed in a humane way but activists argue the festival is cruel and animals and maltreated and beaten to death before being butchered.
An online campaign calling for the festival to be banned has gained more than 3.8 million signatures.
Celebrities from China and further afield have declare their support for the campaign, speaking out against the festival on Twitter using the hashtag #StopLuYin2015.
Among them are Ricky Gervais, and Chinese pop stars Chen Kun and Yang Mi.
Actor Fan Bingbing has released a video in which she and other celebrities hold up a sign saying: "Dogs are our friends, please don't hurt them."
Some animal lovers have resorted to buying dogs in order to rescue them, with retired schoolteacher Yang Xiaoyun making headlines when she paid about about CN¥7,000 (£710, $1,100) to save 100 animals.
Chinese animal rights activists unfurled a banner in front of Yulin's muncipal hall demanding an end to the festival on 22 June but were led away by men not wearing uniforms, reports Reuters.
Yulin's local government has distanced itself from the festival and, in a statement, said it is not officially endorsed.
Owning dogs has pets has become increasingly popular with China's burgeoning middle class, particularly in urban areas. Activists claim pets are stolen to be sold to meat vendors.
For about 500 years, dogs have been eaten in China and South Korea, with the meat believed to ward off heat in summer months.
© Copyright IBTimes 2023. All rights reserved.