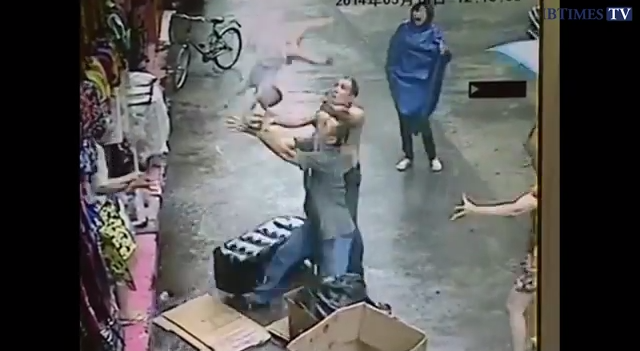 Dramatic footage has emerged of the moment a one-year-old baby fell from a second storey window before being caught by two passers-by in China.
The released CCTV footage shows the men in the thunderstorm with their arms outstretched ready to catch the toddler, who had been searching for his mother.
The incident took place in the city of Zhongshan, Guangdong Province, and the baby was unharmed in the incident.
The men position themselves as the baby climbs onto the window ledge and others place sofa and cardboard on the ground in anticipation of the child's fall.
Once caught by the men, the child is collected by a woman who is believed to be the mother.
"I didn't think too much at the time," one of the rescuers, only giving his name as Mr Li, told China's CCTV.
"I was just afraid of failing to catch him. Some people put down cardboard to avoid serious injuries to the baby if I fail to catch him.
"It was nothing but human instinct to do so."