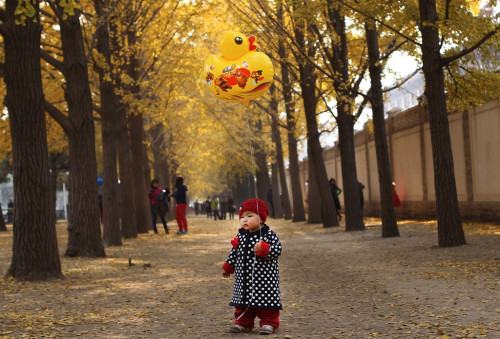 AAB Group, a Chinese manufacturer of diapers and sanitary napkins, is eyeing a Hong Kong flotation to grow its business in the wake of Beijing's recent decision to reform the country's one-child policy after a 30-year hiatus.
AAB proposes to raise about $300m (£184m, €220m) through the planned initial public offering (IPO), two unnamed sources told Bloomberg.
The company, based in Quanzhou city in eastern China's Fujian province, has already filed an application to the Hong Kong stock exchange and hopes to list by June 2014, they said.
Bank of America, UBS and RaffAello Capital are working on the IPO.
A Hong Kong-based external spokeswoman for AAB Group refused to comment on the planned stock-sale.
China's child-related consumption is expected to increase by 22% annually over the next five years with the government easing rules limiting most families to a single child, according to Goldman Sachs.
AAB's move to list itself, and cater to the expected increase in demand, also comes amid rising domestic and international competition.
Hengan International Group, another Fujian-based diaper maker, has said it would increase its production capacity and introduce premium goods.
Hengan proposes to increase diaper-making capacity by 20% and start selling Q-Mo, a more expensive range of products, in the second half of the year, chief executive Hui Lin Chit said in a 15 January interview.
Meanwhile, foreign rivals such as US-based Kimberly-Clark and Japan's Unicharm are also expanding in the world's most populous country.
One-Child Policy Relaxed
In December 2013, the Standing Committee of the National People's Congress, China's rubber-stamp parliament, passed a resolution to allow couples to have two children if either parent is an only child.
The change in policy is aimed at raising fertility rates and tackle China's gender imbalance. By 2020, demographers say China will have 24 million "leftover men" who would not be able to find a wife.
The one-child policy was introduced in 1980 to curb rapid population growth. A second child was only allowed if neither parent had siblings or if the first born to a rural couple was a girl. China argues the policy supported the country's rapid development from mass poverty to the world's second-largest economy.
However, it has become increasingly unpopular with leaders fearing the country's ageing population and shrinking workforce.