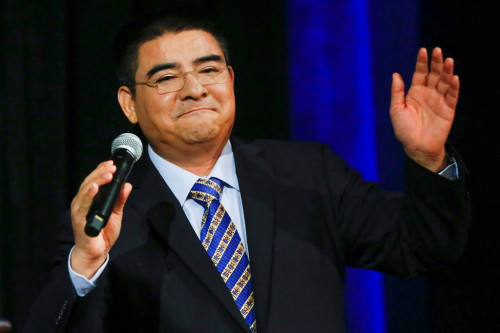 Eccentric Chinese millionaire Chen Guangbiao, almost unknown in the US a few weeks ago, said on 7 January that his plan to buy the New York Times was fraught with hurdles.
The recycling tycoon, who made a name for himself in China as a philanthropist, said he did not own shares in the NY Times.
Chen also said he did not plan on buying any of its common shares and told Reuters that the NY Times rejected his request for a meeting.
The Ochs-Sulzberger family, which has owned the NY Times for more than 100 years, controls the company that publishes the newspaper through a trust of Class B shares, with special voting rights.
That company has a market value of $2.3bn.
Chen was in New York to discuss his offer of $1bn (£609m, €735m) for the newspaper.
Chen said he hoped to partner with an American entrepreneur to make the purchase.
An NY Times spokeswoman refused to comment.
Addressing a media gathering, Chen pledged to pay millions of dollars for reconstructive surgery on two Chinese women, disfigured from a 2001 self-immolation incident in Tiananmen Square.
"The level of difficulty is great," Chen said about his plan to buy the NY Times through an interpreter.
Earlier in the week, he authored a column in The Global Times asking readers not to interpret his intent to purchase the newspaper as a joke.
Chen's Antics
Very little is known about Chen's privately held demolition and recycling firm, Jiangsu Huangpu Recycling Resources.
The Hurun Rich List of China's super-wealthy said that Chen was worth some $740m in 2012.
Chen's previous publicity stunts include selling air in cans for five yuan during a particularly smoggy week in Beijing last January. For each can sold, 0.10 yuan was donated to charity.
Earlier, he gave away 2,000 bicycles in Beijing to promote a carbon-free lifestyle and made earthquake survivors pose with money he had donated to them.