Chinese New Year 2015: Alibaba challenges Tencent WeChat in £188m money-giving lottery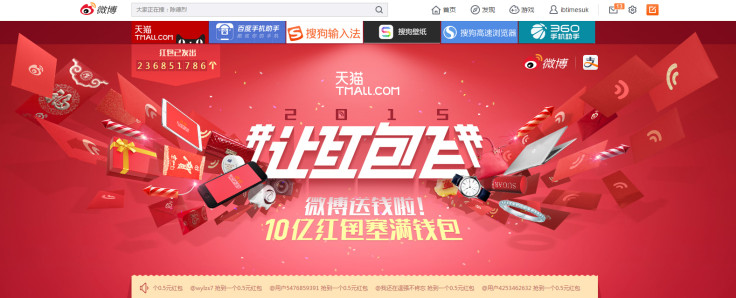 To celebrate Chinese New Year, two of China's online giants are going head-to-head, promoting their electronic money-giving services by handing out free "hong bao" to users.
The tradition of giving "hong bao" - red packets filled with money - is an important Chinese custom, and the monetary gifts are usually given by married couples to the children and unmarried people in their families during the Spring Festival.
Of course, with the rise of mobile devices, money is increasingly being sent electronically, and in 2014 the idea of sending money over mobile apps was introduced by WeChat, a hugely popular mobile and web messaging system with over 460 million users as of the third quarter of 2014.
Sending out virtual red packets
Over 10 days during Chinese New Year in February 2014, WeChat's parent company Tencent saw that at least 8 million users had exchanged a total of 40 million virtual red packets on the service, and so this year e-commerce giant Alibaba is looking to get involved.
Alibaba, which floated on the New York Stock Exchange earlier this year, provides a wide range of services including messaging apps, web portals, online gaming and e-commerce. It is a major rival of Tencent, which is the fifth largest internet company in the world.
With two large companies going head-to-head both are trying to entice consumers to use their electronic money-giving service by launching lotteries.
Tencent has launched an online game that WeChat users can enter, and has pledged to give away CN¥800m (£82.6m, $127m) in red packet prizes.
Drawn randomly by lottery, winning users will receive a red packet of electronic money, but they won't know how much is inside it until they open it, and the packets have a variety of values, from several cents to CN¥5,000 (£518, $799).
500% increase in mobile payments in one year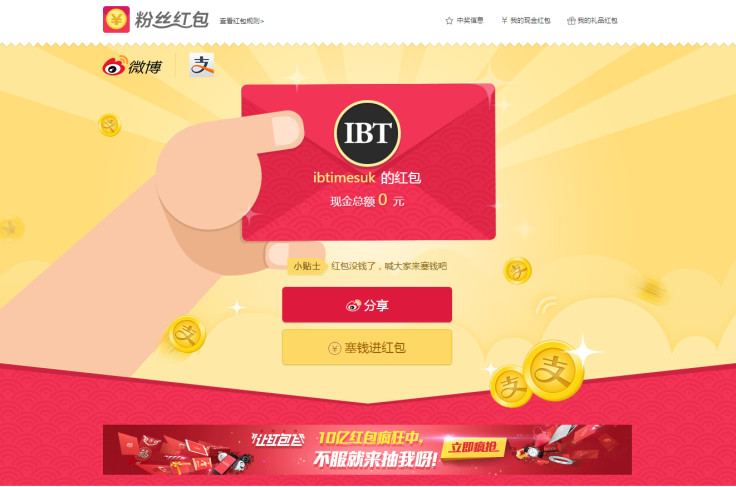 Alibaba, the world's third biggest internet company, is promoting its Alipay Wallet by giving out CN¥594m (£61.5m, $95m) in red packets on micro-blogging site Weibo from 18 February, as well as additional coupons and discounts that amount to several billion yuan.
As of 10am GMT (6pm CST) on 18 February, the counter on Weibo showed that 236.9 million electronic red packets had already been sent out.
In fact, according to AFP, the two firms have been involved in a battle in recent weeks with Tencent seemingly trying to discredit Alipay Wallet.
Tencent has banned its users from utilising Alipay Wallet in order to send red envelopes over WeChat, citing potential security risks as the reason, and WeChat has now blocked Alibaba's music app Xiami from working.
Alipay Wallet currently controls 82.6% of the Chinese mobile payment market, while Tencent's Tenpay service has a 10% market share, according to data from iResearch.
According to research firm Analysys, the total volume of transactions in China's third-party mobile payments market reached CN¥7.77m in 2014, which is a 500% increase over the last 12 months.
Lucky number value of red packets is key
Of course, Chinese people have been giving out red packets of money during the Spring Festival for 2,000 years, and some are reluctant to replace physical currency with an online transaction, as all users must register their bank details with WeChat and Weibo in order to use the service.
"I don't want to take the risk of disclosing my bank card information to these Internet companies just to get a few yuan," Zhao Na, a 32-year-old resident in Beijing told the Global Times.
While everyone likes to receive money, with hong bao it is sometimes not so much about how much is given, but the way the amount of money given sounds in Chinese.
The number eight is a lucky number and any amount of money given should end with that digit. However, if someone were to receive a red packet filled with £24, for example, then this would be considered as a curse, as in Chinese, 24 means to "starve to death".
© Copyright IBTimes 2023. All rights reserved.