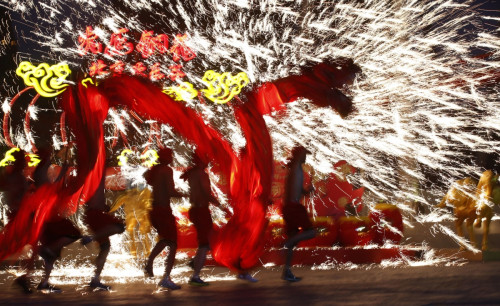 Chinese police have arrested a man accused of shooting six people dead and wounding another three on the Lunar New Year's Eve, believing his wife had engaged in a love affair with two other men.
Shao Zongqi was captured in Banqiao village in the southern Tengchong County after four days on the run, local authorities said.
The 38-year-old went on a killing rampage in the nearby township of Houqiao last week, after he was led to believe that his wife had been cheating on him with two married men from the same village.
Police said that, blinded by jealousy and armed with a semi-automatic rifle Zongqi took revenge against his wife's lovers, as they were preparing to celebrate the Lunar New Year festival with their families.
Chinese families gather to feast, drink and set off fireworks on New Year's Eve and traditionally leave doors and windows of their homes open to let the old year out as midnight strikes.
One of the two alleged paramours, Shao Zongping, was shot dead alongside his wife and two sons.
The second, Shao Zonghua, had his wife and father killed. He survived with his two children but all three were injured in the attack; one was reportedly in a critical condition at a local hospital.
Zongqi reportedly escaped aboard a cross-country vehicle.
Police retrieved the imitation type 56 assault rifle used by the gunman and 40 bullets near a well by a Daoist temple in a village close to where the arrest was made.
Chinese New Year falls on the first day of the lunar month and continues for 15 days, when the moon is full.