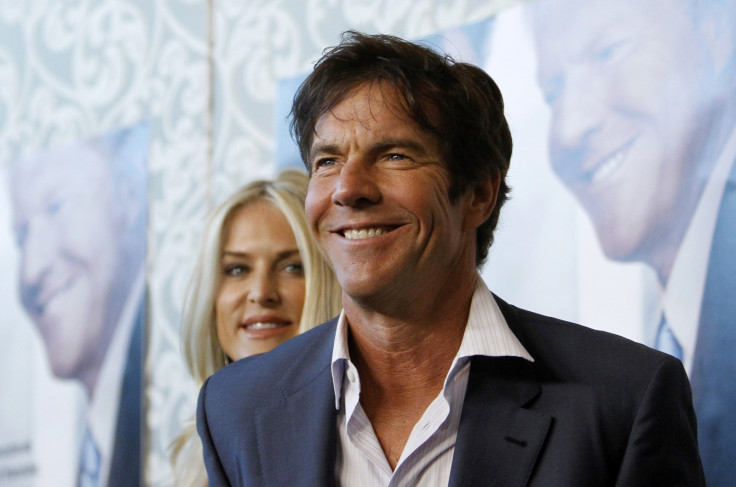 US actor Dennis Quaid has been caught on film having a meltdown and launching a furious tirade at a crew member on set of a new movie.
In the 43-second clip that has gone viral, Quaid, 61, can be seen standing behind a desk and yelling at someone behind the camera.
The Parent Trap star shouts: "What the f**k? I am acting here and this d******d wanders on to my set. I can't even get a line out until dopey the d**k starts whispering in your ear, you're not even watching anymore."
When the unidentified male tries to intervene, Quaid barks back: "No don't f*****g 'Dennis' me! I'm doing my job here. I am a pro! This is the most unprofessional set I have ever been on. This is horse s**t!"
The clip has been viewed on YouTube more than 440,000 times but some are questioning its authenticity, suggesting it could be a hoax for talk show host Jimmy Kimmel, who is known for pulling pranks on his viewers.
Those in the sceptical camp have tweeted:
Other reactions included:
Many have drawn comparisons between Quaid's reported outburst and Batman actor Christian Bale's outrageous rant on the set of Terminator Salvation in 2009. Shortly after that incident, Bale issued an apology stating: "I was out of order beyond belief. I make no excuses for it."
It is not known what film Quaid was working on at the time of his meltdown but The Day After Tomorrow actor did mention zombies in the clip. According to IMDb, his next project is a film titled Truth in which he stars as Colonel Roger Charles.
Starring Oscar-winner Cate Blanchett, Elisabeth Moss, Topher Grace and Robert Redford, the movie takes a behind-the-scenes look at news anchor Dan Rather during his last days at CBS News and the controversial report he wrote about President Bush using his privileges to avoid fighting in the Vietnam War.
Watch Quaid's meltdown below. Warning, very graphic language.