Chromecast is here. Finally. UK users can now get their hands on Google's HDMI streaming dongle for just £30, allowing you to turn any TV into a smart TV, and watch content streamed from your phone, tablet or laptop.
We've already detailed the best tips and tricks to get the most out of your new gadget, but what are the best apps to use with Chromecast to make the most of its potential.
Google told IBTimes UK at the UK launch that some 3,000 developers were working on producing apps which support Chromecast and that there were already 800 apps in the Google Play store which use the feature.
But which are the best? Here's our pick of top Chromecast Apps:
---
---
If you are a Netflix subscriber and don't have access to the service on a smart TV, then Chromecast is a dream come through.
No longer will you be stuck looking at Breaking Bad on your puny smartphone screen, you will now be able to enjoy the full glory of Walter White and Co. on your large screen TV.
---
---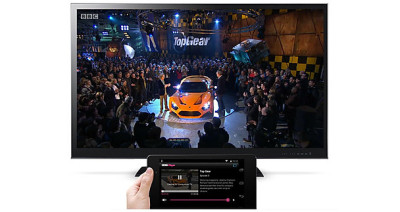 iPlayer is the jewel in the crown of the BBC's digital output, giving you access to the last seven days of content whenever you want it.
Just as with Netflix, watching Eastenders on a tiny tablet screen somewhat negates the enjoyment, but with Chromecast support launched on the same day as Google launched the dongle in the UK, this is no longer a worry.
---
---
Google has just released Photowall, an app which lets people collaborate with images on the TV - using phones or tablets.
Anyone can take a picture and send it to a Photowall to instantly see it on the big screen. Once all the photos are put together, a YouTube video of your Photowall is automatically generated to sharing with anyone who took part.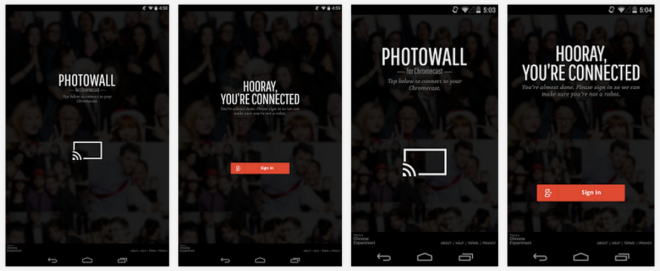 You can send photos from your Android or iOS smartphone or tablet, as well as from a Chrome browser.
---
---
Watching YouTube clips can be enjoyable in isolation, but watching funny clips of cats is improved exponentially by watching them in a group.
Chromecast allows you to watch endless clips on your TV with the added benefit of everyone who is connected to your Wi-Fi network being able to send their favourite clip to a shared queue.
There's no party like a YouTube party.
---
---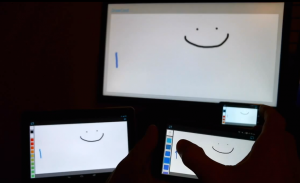 This is one for parents of young kids. Rather than stifle your children's creativity by stopping them drawing on your white walls, why not give them your smartphone and tablet and with CastPad see their doodles come to life on the TV.
CastPad may not be able to compete with some of the professional sketching apps available these days, but it does allow for adjustable pen sizes and lets you pick from five colours.
A premium version removes the ads and gives you an infinite colour picker option.
---
---
While Google's own Photowall app allows you to view photo's taken on your phone or tablet, Framebook works with your Facebook account and lets you display photos posted to the social network and control them using your Android device.
You can view your own photos for free but if you want to unlock Friends' photos you will need to pay $1.99.
---
---

Playing games on your TV is typically done using a Playstation, Xbox or Wii, but with Chromecast you can now play smartphone games.
Hangman may not be Grand Theft Auto in terms of graphical quality or character development, but for simple pleasure, it's hard to beat.
---
---
Learning English can be difficult, and one of the best ways to do it is by listening to and watching other people speak it.
So, the English Pronunciation app for Android has added the ability to send BBC Learning English videos to you Chromecast, so you can learn in comfort.
---
---
Plex seeks to solve one of the big shortfalls with Chromecast, and that is local media play from your laptop. While there are dozens of apps which will cast videos, music and photos from your phone or tablet, you currently can't do this from your laptop.

Plex seeks to solve this by turning your laptop into a virtual server, using the smarpthone/tablet app to control playback.
The set up is a little involved, means your computer has to be on all the time, and the Plex app costs £3 from both Apple's App Store and Google's Play Store.
---
---
Playing music through your TV may not seem like a brilliant idea, but for some people the best sound system in their house will be hooked up to the TV in their living room.
If so, and if you have synced all your music to Google's online music locker, then Play Music and Chromecast are an ideal combination, allowing you control the music from anywhere in the house.