Last night's (6 April) Bafta Game Awards were dominated by quality games and deserving winners, including actor Cissy Jones, who won one of the iconic statuettes for her performance as Delilah in Campo Santo's acclaimed mystery Firewatch.
Jones was up against stiff competition from three of the stars of Uncharted 4: A Thief's End – Nolan North, Troy Baker and Emily Rose. That three actors from the same game were nominated indicated one of them would be the likely winner.
It was Jones' night however, and her win was entirely deserved. Her performance is somewhat unique in video games; a voice from an unseen body players interact with solely through radio chatter.
The conversations players have – as fire-lookout Henry – shape the pair's relationship and Jones's performance in turn shapes the player's interpretation of who Delilah is.
It's this aspect of the game that drew Jones to the role, as she explained while speaking to IBTimes UK following her win. "It's my favourite thing about the game," she said of that player interaction. "It makes it my favourite role because you have to decide how you feel about this enigmatic character on personality alone.
"You don't get to decide if she's cute and so you flirt, or she's got big boobs and so you flirt, or if she's unattractive to you so you don't. You have to decide based on if she makes you laugh, if she makes you feel, if she makes you happy and I think that's... I love that, I love that about this game."
Firewatch was the debut game from Campo Santo, a small Californian developer founded by writers Sean Vanaman and Jake Rodkin (previously known for their work on Telltale's first season of The Walking Dead), Nels Anderson and artist Olly Moss.
Firewatch also won Best Debut Game earlier on in the evening.
As you might expect, Jones would love to work with the Campo Santo team again ("On all the things, forever, to the end of time forever," as she enthusiastically put it) describing the developers as "a dream".
In our review of the game we praised its "superb writing, acting and design work" adding that it "bears the quality of a product made by a team of veterans who have a great deal more to offer."
Firewatch is out now for PS4, Xbox One and PC.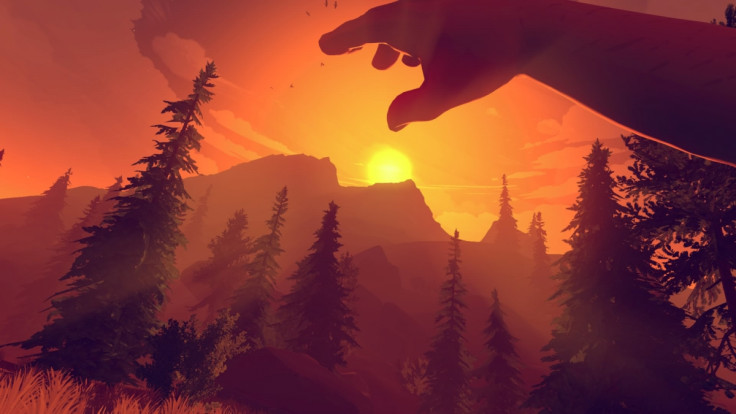 For all the latest video game news follow us on Twitter @IBTGamesUK.