Uncharted 4: A Thief's End review – Naughty Dog draws Nathan Drake's story to a stunning close
Naughty Dog takes everything it learnt from The Last of Us and applies it wonderfully to Drake's final adventure.
Uncharted 4: A Thief's End
Platforms: PS4 (tested)
Developer: Naughty Dog
Publisher: Sony Computer Entertainment
Release Date: Out Now
Spectacle has always been at the forefront of Naughty Dog's Uncharted series – from discovering a German U-boat in Drake's Fortune, to the train and helicopter sequences in Among Thieves and cruise-ship set piece in Drake's Deception. It comes as no surprise then that Uncharted 4: A Thief's End delivers on this front as well, but it's greatest success is found between its bombastic flourishes.
Development was troubled early on when Amy Hennig – the woman most responsible for the series' success – left the company. Hennig was reportedly forced out by Naughty Dog stalwarts Bruce Straley and Neil Druckmann, who wanted a change of direction after joining the project following their enormous success with The Last of Us. Whatever the reality of that situation, the change in leadership has had a noticeable effect on the final product.
Uncharted has always prided itself on its cast of affable and charming heroes, from sidekicks Sully and Elena to protagonist Nathan Drake. The games work because they're fun rides with good company, but Drake's adventures to date have been fanciful and rarely rooted in anything more relatable than the pursuit of shiny treasure. The biggest achievement of A Thief's End is that it gives Drake a greater depth than he's ever had, in a way that informs the action and story surrounding him.
At the end of Uncharted 3, Nathan Drake willingly waved goodbye to his life of adventuring to start a new life with Elena, the love of his life. Years later he still finds himself daydreaming about his many exotic adventures. So, when Sam –the older brother he thought to be dead – shows up with his life endangered, Nathan is drawn all too easily into a final quest for long-lost treasure.
Druckmann and Josh Scherr's script is the best of the series, infusing this game with more humanity than any of its predecessors and granting the cast a greater depth than they've ever had. What epitomises this best is the relationship between Nathan and Elena, which is handled with remarkable subtlety. The script never resorts to trite declarations of love or great sorrowful apologies, these are two characters who know each other extremely well, and that's conveyed superbly.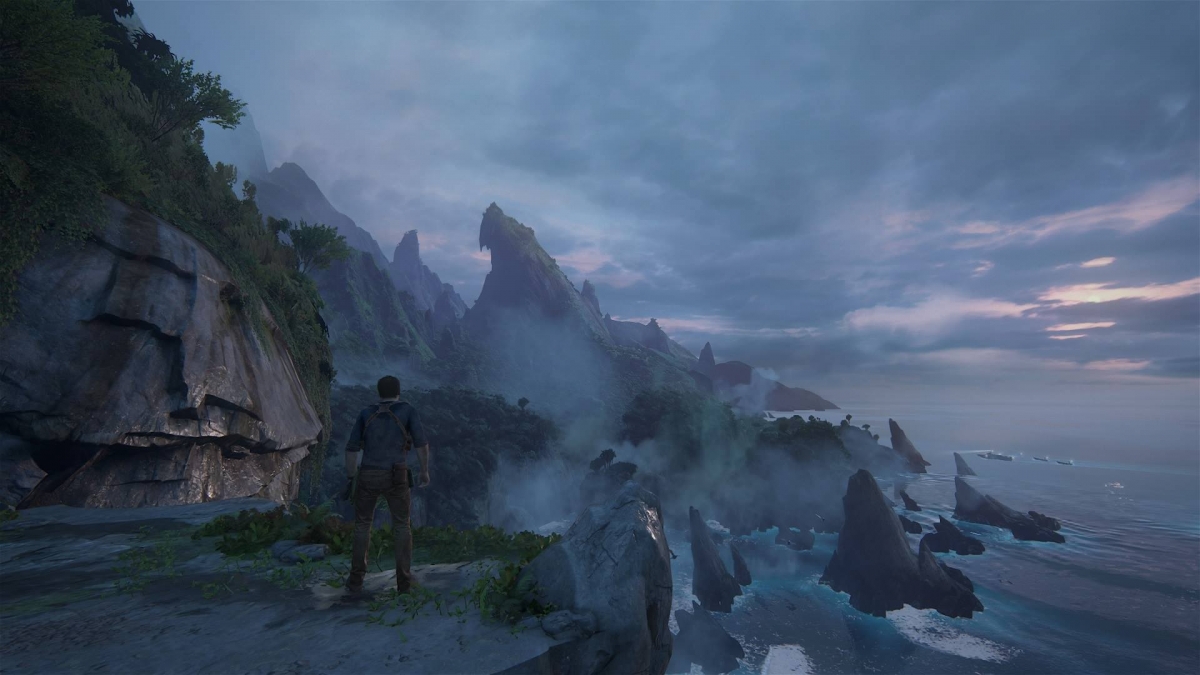 Fine performances from Nolan North (as Drake), Emily Rose (Elena) and Troy Baker (Sam) help realise and amplify the script's qualities – which are more to do with the quieter moments than any scene-stealing soliloquies. Something surprising about A Thief's End is how often the characters are given the chance to interact, owing to the great balance Naughty Dog has struck when it comes to action. There are often swathes of time between set pieces, during which the player can explore and soak in the luscious environments as characters' babble and bicker, building, reinforcing and repairing their bonds.
The game is so varied in terms of its gameplay that it'd be wrong to describe Uncharted 4 as purely a third-person shooter. There is third-person shooting, but there's so much more too. Puzzle-solving and environmental platforming are hallmarks of the Uncharted games, but there are new additions too, such as driving. Combined with more open environments (more open than we expected), the driving is a joy. When first introduced to it, players are afforded a huge amount of space to get used to the system before skilful driving is demanded - most notably in the huge set piece Sony showed off at E3 2015.
A host of other new features enrich the overall gameplay. There's a grappling rope for swinging and climbing, dialogue options, improved hand-to-hand combat, and, most notably, a stealth mechanic that improves the game's action tenfold. Most encounters with the mercenaries that stand between the Drake brothers and their quarry can be approached in multiple ways. You can go in guns blazing as has been customary for the series, avoid confrontation altogether, or move carefully around the environment picking foes off until the area is clear. The simple ability to choose in this way adds so much to the established formula, despite the mechanic itself being quite rudimentary.
A metre above the heads of enemies fills up if they see the player from distance, turning to yellow when they grow suspicious. In true Metal Gear Solid fashion, they'll then investigate, opening a window of opportunity to take them out or be spotted. Compared to the more sophisticated mechanics of that series – refined to perfection in MGS 5 – it's relatively basic. Certainly fit for purpose, but its limitations are clear. One problem is how quickly it falls apart. A single guard may spot the player, and within a few seconds everyone in the area will have opened fire. It's a system that offers freedom, but also regularly corners players when they fail to keep out of sight.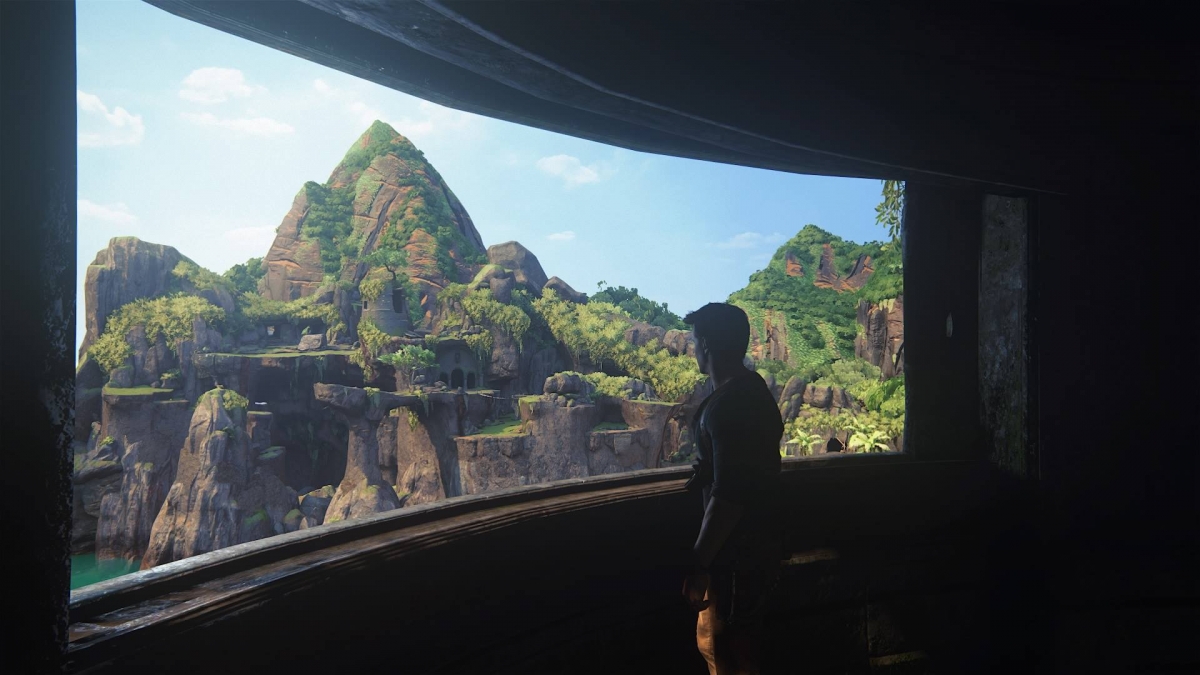 These are minor infractions. The combat is the best it's ever been in a Naughty Dog game, aided by a choice of approach and traversal but also improvements to the gunplay that make aiming and firing less haphazard, while retaining its frantic nature and challenge.
Naughty Dog's excellent pacing of action is offset slightly by its pacing overall. The story unfolds at a good pace, mixing up locations and characters when and where required, but there are instances when a puzzle is repeated one too many times or a stretch of traversal goes on too long. Uncharted 4 is far from a slog, but shaving fifteen minutes from a handful of chapters could have made the game even leaner.
Early on, Uncharted 4 hops quickly from time period to time period, chapter to chapter, in an attempt to set things up but also rush to the story proper. Once Sam and Nate are reunited the game settles into a nice rhythm that builds and builds until a thrilling climax, not overplayed like its predecessors, that ties together the game's themes of obsession and fulfilment brilliantly. As the end of Nathan Drake's story, it couldn't have been better handled, and the epilogue – well, it's a scene you won't forget in a hurry.
Upon completion of the main event, the multiplayer will be many players' next port of call. This review may be making a footnote of Uncharted 4's competitive element – but that clearly wasn't the case at Naughty Dog during its development. Multiplayer is not the main reason people will buy Uncharted 4, but what's here brings together everything that works well about the main game to engineer a fun and moreish multiplayer mode that will amass and deserve its dedicated following.
Uncharted 4: A Thief's End
(9/10)
If this really is the last we see of the Uncharted series, A Thief's End will have been a remarkable and surprisingly inventive farewell. More so than either sequel before it, Uncharted 4 builds on the formula in unexpected but natural ways, while telling a story that is more mature and thoughtful than previous games, but which still retains the series' beloved blockbuster thrills. The best in the series, and another Naughty Dog classic.
---
---