Cody "No Love" Garbrandt is eyeing history as he recently revealed his plans to become the first three-division UFC champion.
Garbrandt, who has a 11-0 record in MMA, is currently on top of the bantamweight division, becoming just the second fighter to defeat former champion Dominick Cruz at UFC 207.
No Love is expected to defend his new title against TJ Dillashaw at The Ultimate Fighter 25 finale, having already engaged in a war of words with his former teammate.
Garbrandt, however, might be overlooking Dillashaw too easily as he hopes to become the first three-division UFC champion. Only three fighters have won UFC titles in two different divisions including Randy Couture, BJ Penn and most recently, Conor McGregor, but Garbrandt wants to do one better.
The 25-year-old is looking to successfully defend his title against Dillashaw and then drop down to 125 pounds and challenge flyweight champion Demetrious Johnson, who has been undefeated for nearly six years.
"I can beat that dude for sure," Garbrandt said on the Aubrey Marcus podcast. "I can go to '25. Obviously, it's TJ [Dillashaw] first and foremost. I'm solely focused on him, but you gotta think of others — Conor's out. Conor's not fighting. Aldo and Holloway are fighting, so that ties up [that division]."
"Now, Demetrious, he's the pound-for-pound best — justifiably so, an incredible fighter, great human. I like him a lot. And his family. But for me, it's a legacy that I set out to build. Friendships are friendships but it's business at the end of the day and I think that I can go on as a huge fight, especially for that division. It's kind of lackluster a lot."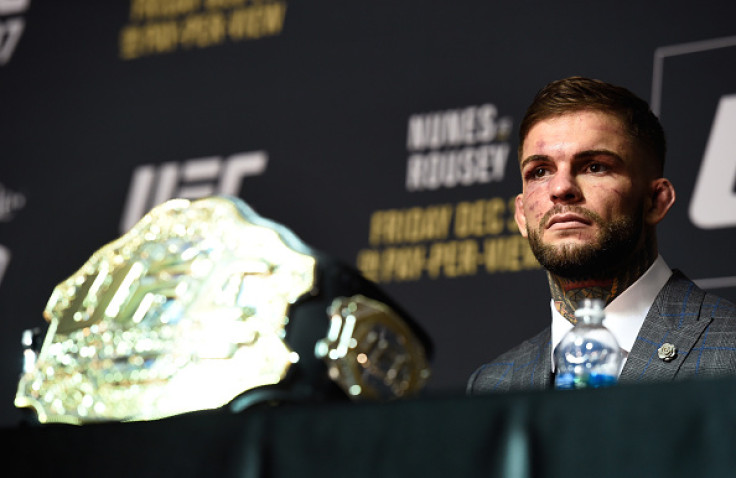 Garbrandt then spoke about the prospect of facing current featherweight champion Jose Aldo, who is set to defend his strap against interim champion Max Holloway at UFC 212.
"That's something, Jose Aldo, I would like to fight him as well," he added. "He's the champion right now. He has wins over my teammates too, so that's something."
"Our camp knows Aldo. If my time is up to go up to '45, and Aldo's still the champion, I'd love to go against another legend, be a three-time [champion]. Hopefully, I'll have 10 more years of fighting to be able to capture those."
Garbrandt definitely has time on his side but it will be no easy task for the Team Alpha Male member to accomplish a feat that has never been done since the inception of the UFC.