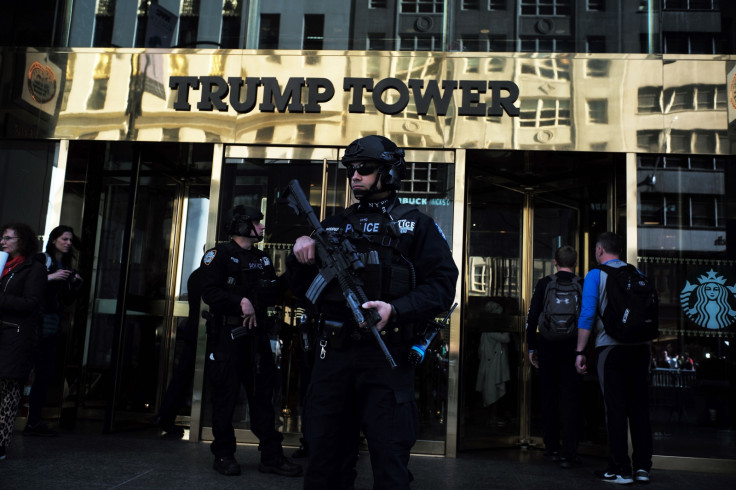 A college student has been arrested trying to enter Trump Tower while carrying a hunting knife, handcuffs and a type of wire typically used to strangle a person.
Alexander Wang, who studies finance at Baruch College, reportedly told police that he was a Donald Trump supporter who likes to study in the US president-elect's New York skyscraper.
He was arrested trying to enter Trump Tower at around 6.35pm on 12 December after Secret Service agents reportedly searched the 19-year-old's backpack and found a hunting knife.
They also discovered inside an M-100 firework, a Swiss Army knife, a flashlight, a pair of handcuffs, an 8ft black rope, a clear water gun, a laptop and a wire typically used to strangle – called a garrote – the New York Daily News reported.
The newspaper reported that Wang, of Poughquag Near Beekman in New York State was arrested and charged with unlawful possession of fireworks and two counts of weapon possession, namely the hunting knife and garotte.
The suspect reportedly told investigators that – in the 10 or so times he had visited Trump's Fifth Avenue tower, he'd never had a problem taking his bag with him – weapons and fireworks included, and that he'd even paid a visit two days after the billionaire won the presidency.
Wang reportedly explained the contents of his backpack by saying he is a survivalist and martial arts enthusiast, adding that he likes to light fireworks on a pier along the East River.
Police were said to have discovered more fireworks in a military-style box inside his dorm room.
There was no evidence of any connection with a terrorist or militia group and police found no firearms in his room, sources told the New York Daily News.